Litzen Guide Service was absolutely outstanding. I hunted the early season, with moose being my main objective. Michael did a great job of matching up guides to clients, based on client input, and I couldn't have been happier with his choice.  Jon Salgat was highly experienced and confident in his craft. Furthermore, he was a great conversationalist who went out of the way to make the hunt as comfortable as possible. The hunt absolutely was top notch. We saw many moose, but I knew immediately when the right one presented itself at 460 yards on the 8th morning. Jon skillfully combined bull grunts with bush raking using a shed antler to call this monster in for a 106 yard broadside shot. Our young packers were soon on the scene, and after photos, we made quick work of the meat and trophy. This amazing hunt represents the fulfillment of a bucket list item which I had been dreaming about for over five years. Thank you Michael and Jon!
John Combs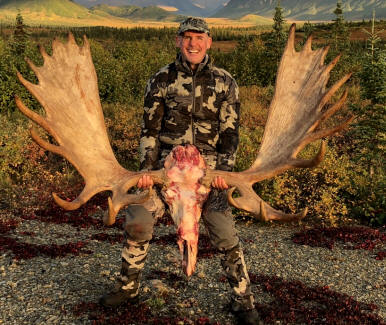 Michael thanks again for a great hunt. Truly you run the best outfit I have hunted with. Everything was spectacular. I could not have asked for a better hunt. I appreciate your professionalism and safety. All of my hunting buddies want to book hunts with you. I would highly recommend your operation to anyone.
Stuart Marshall
(208) 201-5609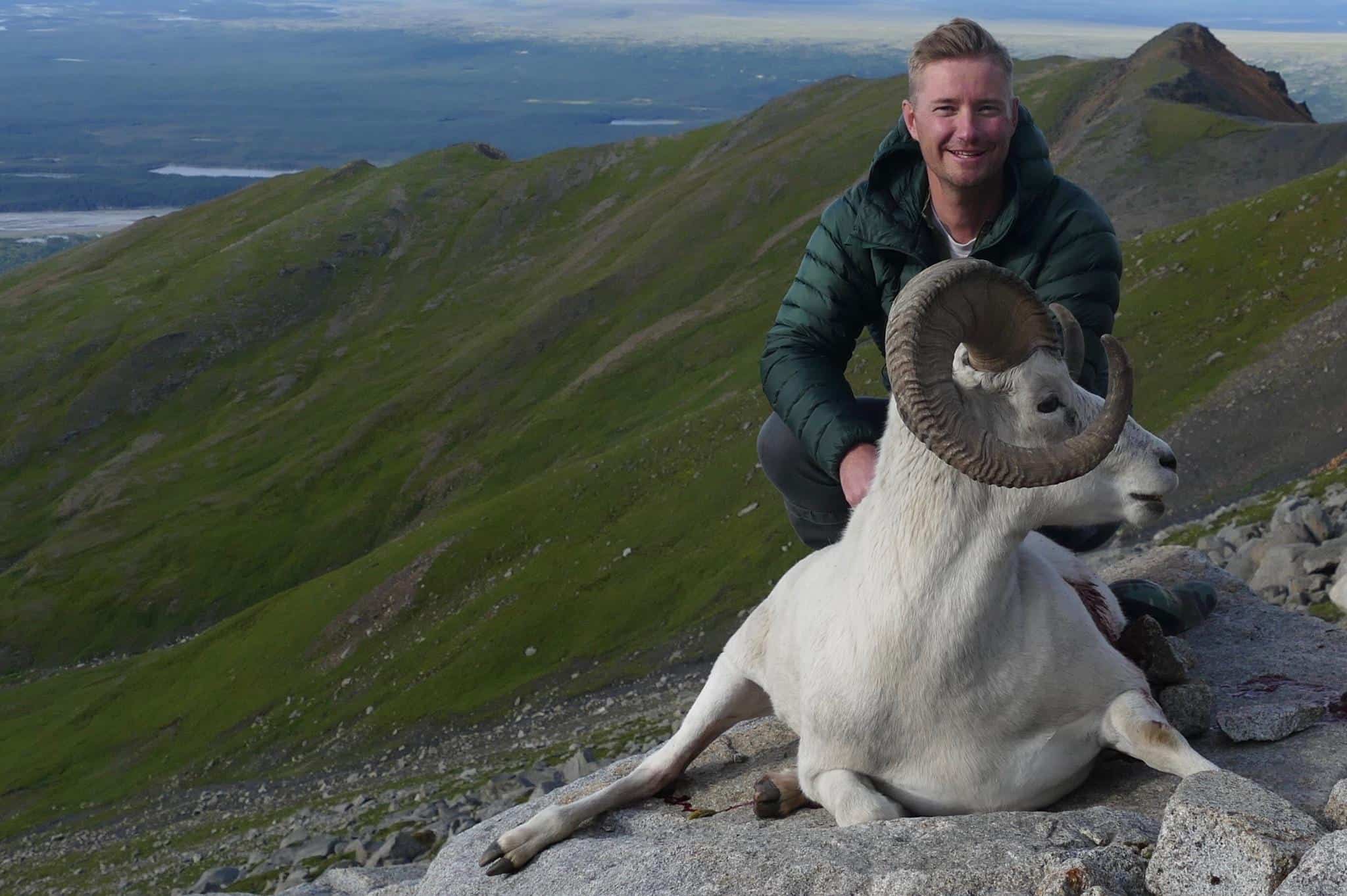 I hunted with Mike in May of 2018. I was fortunate to be able to take 2 of my sons and a good friend with me. From the minute we stepped on the boat our expectations were exceeded. The first day we saw over 30-Brown Bears. I harvested my Bear on day 7 and my hunting partner did on day 8. Most incredible hunting experience of my lifetime. Headed back in 2020 to try it again. You won't find anybody better in my opinion.
Paul Berman
435.901.2176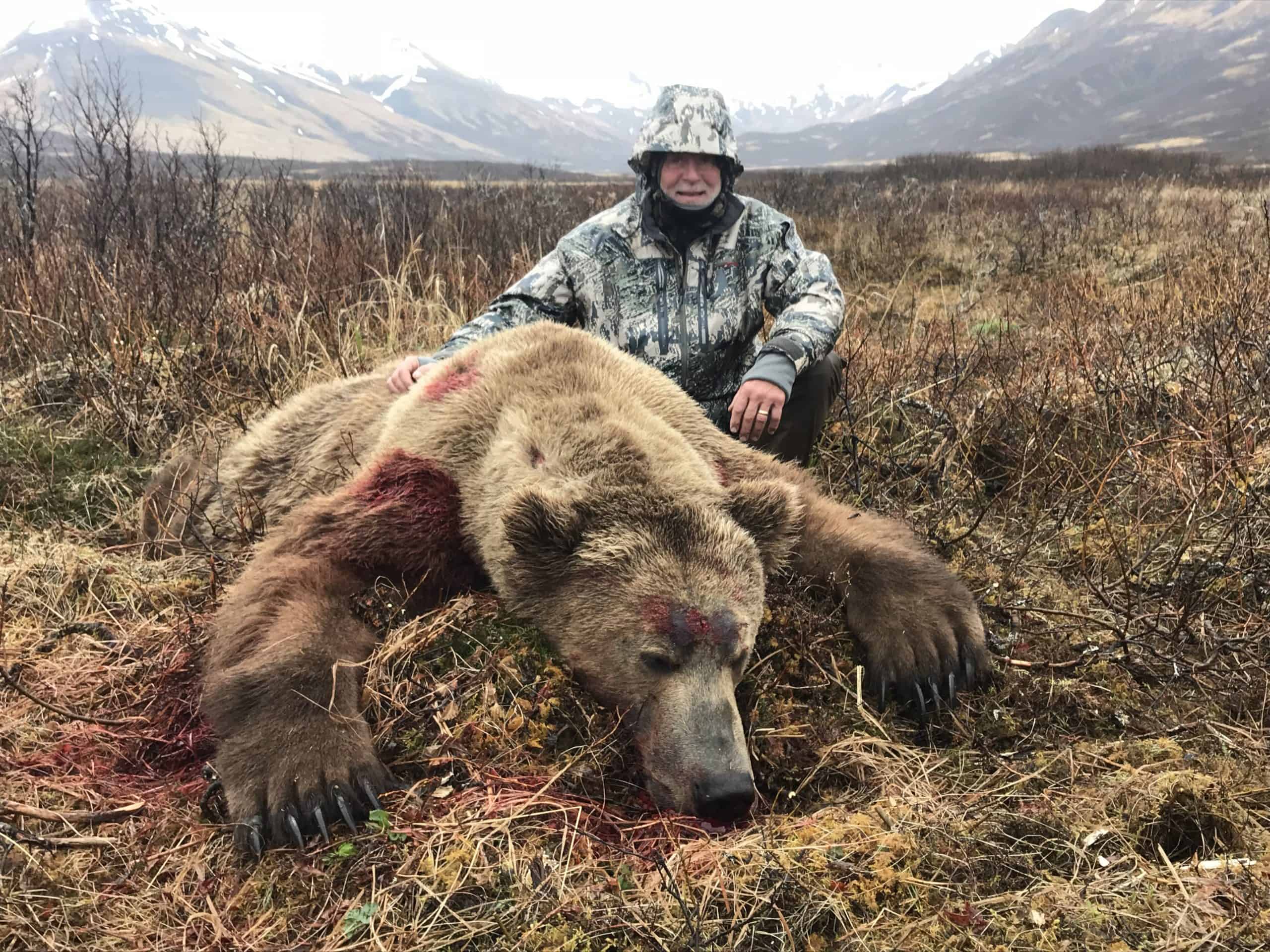 Just completed another great hunt with Litzen Guide Services.  This moose/caribou hunt was my third hunt with Mike, he and his guides continue to provide quality, professional hunts and outstanding service.  I had the privilege of hunting with Jason, a long time guide with Mike.  Jason went above and beyond to make this a memorable and enjoyable hunt in this beautiful part of Alaska.
We got our moose early and then concentrated on a nice caribou, unfortunately, that caribou didn't show up for the hunt.  However, Jason did forge a relationship of sorts with a particular wolf and on its third visit to camp, finally afforded us a shot even I could make!  All my hunts with Litzen Guide Services have left me with lifetime memories such as this one.  If you are looking for a quality Alaska hunt, I highly recommend Mike Litzen.
Ray Mahalick Squim, WA
(505) 980-4297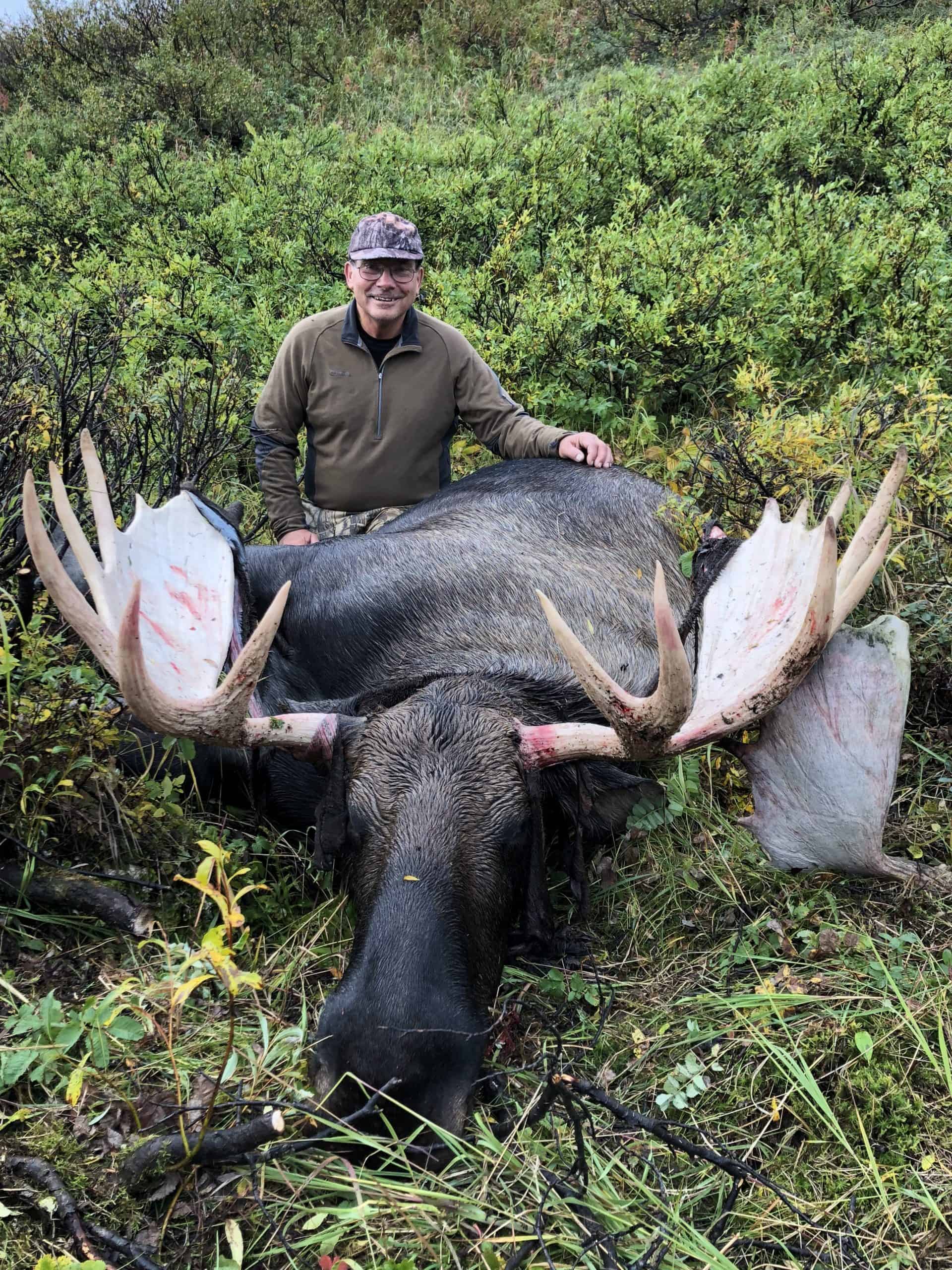 Mike, thank you very much for my bear hunt. In May 2018 I went on a coastal brown bear with Litzen Guide Service. My hunt was done from a boat. It was my third bear hunt in Alaska and first bear hunt from the boat. I did a goat hunt from the boat before.
So I can confirm that the hunt was well organized and accommodation on the boat was superb. I really felt pity for guys soaking rain in spike camps ashore. The couple who run the boat and the kitchen were extremely helpful and friendly. All Food was tasty and hearty. My guide Joel is a great character and very knowledgeable hunter. I was lucky to have great buddy hunters on board and it was a real pleasure to spent time together. And of course I'm absolutely happy with my great trophy bear.
So Mike, thank you very much for your efforts and commitment and only all the best for your company!
Best Wishes,
Timur Goriaev,
Surrey, Great Britain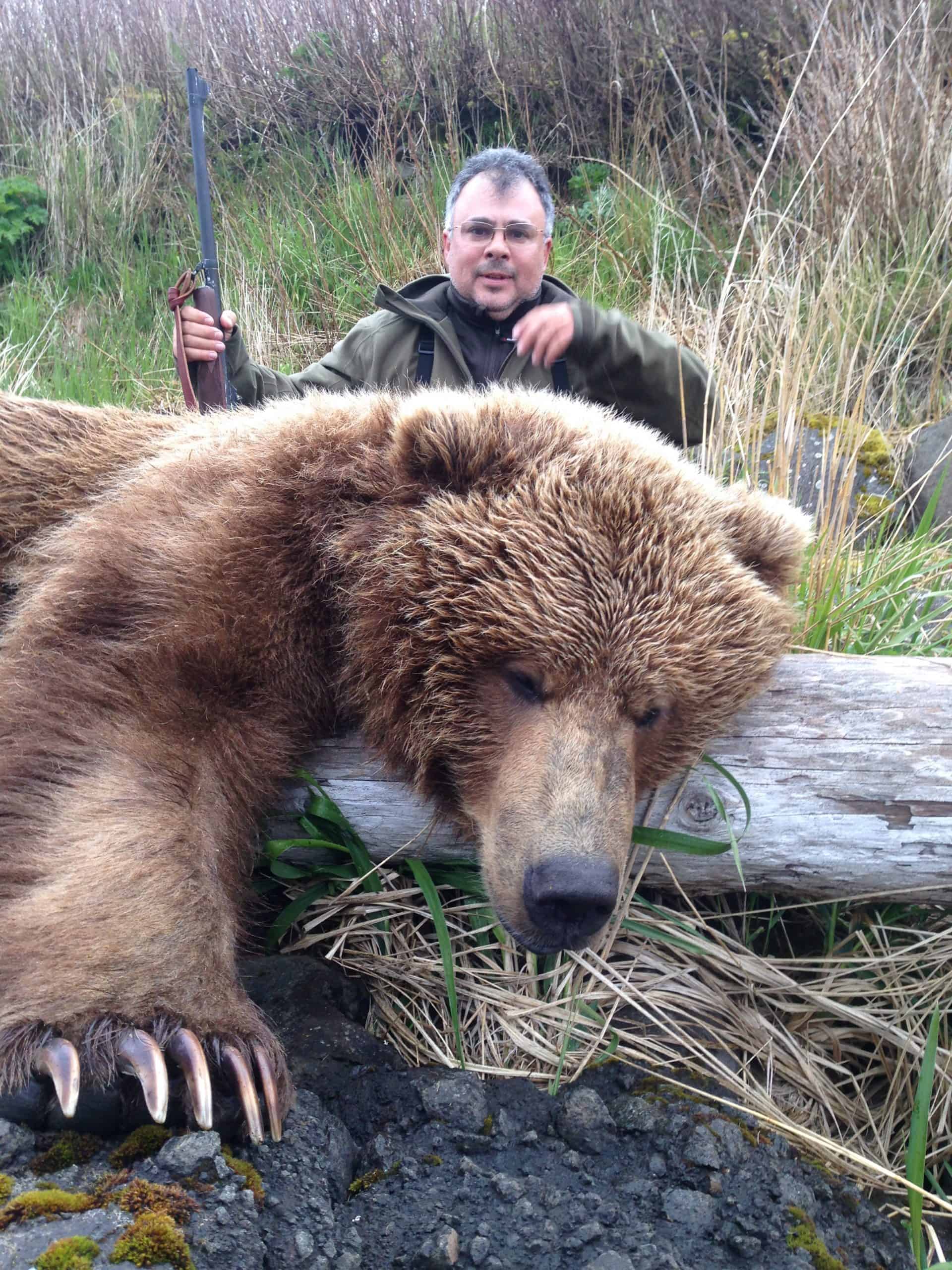 I've been fortunate to hunt a variety of sheep around the world and here in North America.  My recent Dall sheep hunt with Litzen Guide Service was – like other sheep hunts, most memorable.  After an unsuccessful hunt in 2016 – I came home empty handed and disappointed.  That is part of free-range, fair chase sheep hunting and if you hunt long enough, it will likely happen sometime.  I returned in 2018 for another attempt.  On the second day I took a beautiful 11 year old, double-broomed ram with my handgun from 210 yards.  I have found Mike Litzen to be an honest, reputable outfitter with first class guides and equipment.  He is extremely well-organized and manages the area he hunts with sound wildlife conservation management goals.  I wouldn't hesitate hunting with Litzen Guide Service again.  
Mark Hampton  
Summersville, MO
(573) 680-2955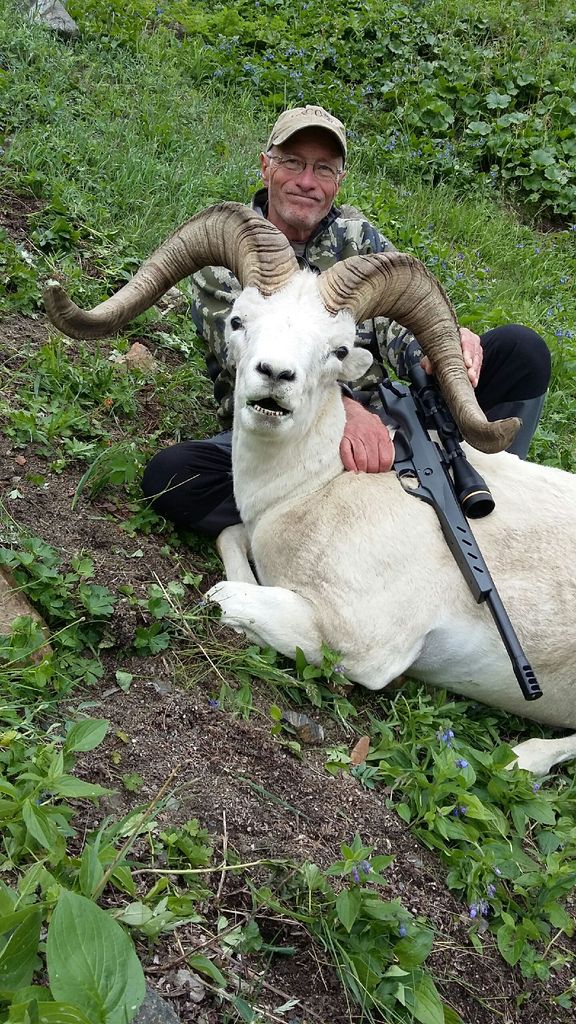 Michael,
Thank you for a most memorable and truly a dream come true experience.  As you know, this was my second hunt with you (2015 Fall Brown Bear and 2018 Spring Brown Bear).  Both hunts exceeded my expectations.  Although I was unsuccessful in 2015, I never thought once about not returning to fulfill my dream of taking a brown bear with Litzen Guide Service.  On both hunts, I saw numerous bears and was fortunate enough to have Jon Salgat as my guide for each hunt.  Jon is a very qualified individual who takes his clients safety and abilities into each aspect of the hunt.  You run a first class operation and your skills as a pilot are second to none.  You are very honest and a man of great integrity.  The equipment is first rate. I was treated exceptionally well by your whole staff.  All of the guides were safety conscience and dedicated to the success of the hunt.
I was blessed with a 9'6" Brown Bear on the third day. The hide was absolutely beautiful, not a rub on it. It will make a fine rug. 
I would highly recommend Litzen Guide Service to anyone interested in fulfilling their dream of a true Alaskan adventure. Please feel free to add me to your list of references. 
Kind regards,
Dale E. Donaldson
Saint Clair Shores, MI
586-804-2321 from my iPhone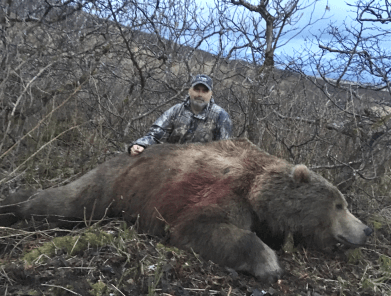 I had the privilege of hunting my first sheep with Mike Litzen and his guide Tony. I've hunted other species with other guides and I can say from multiple guided hunting experiences that Mike runs a top notch operation. I was super impressed with his communication and attention to detail before the hunt, something that often lacks in other outfitters! The transportation in and out of camp was great, as not only is Mike a great outfitter, he's a top notch pilot as well. As for my hunt, it was everything I expected and more, grueling packs, steep mountains, unpredictable Alaskan weather, and lots of sheep. I was blessed to harvest a very nice ram on the end of day 2! My guide Tony was a mountain goat/pack mule all in one. He was patient and helpful in every way. He helped me do more than I thought I could and made the trip very enjoyable for sure! Anybody wanting a top notch Dall sheep experience needs to look nowhere else! Thanks Mike and Tony!
Eli Johnson,
Hamilton MT
(406) 214-6255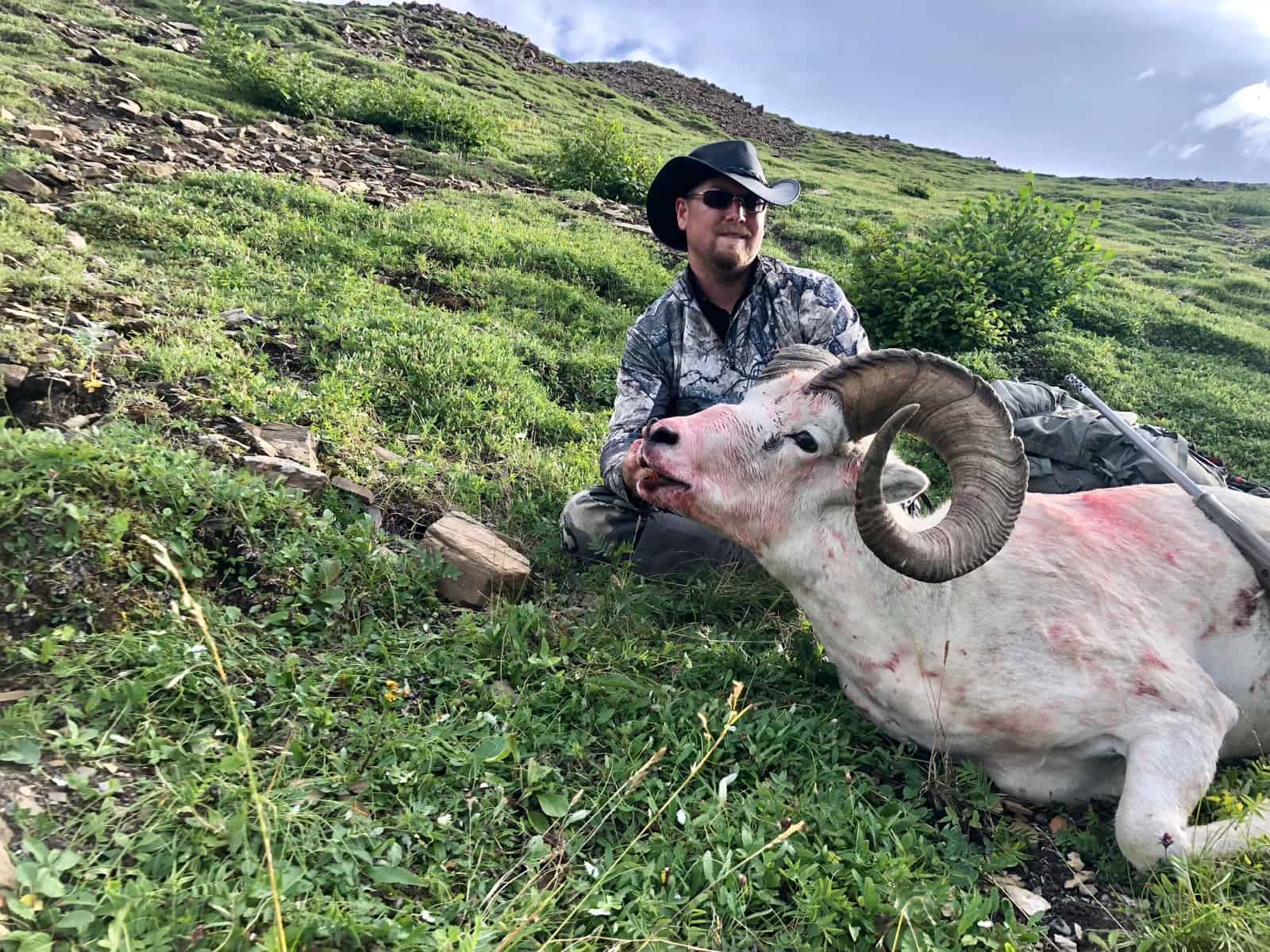 "Mike runs a first class operation for multiple big game species in Alaska. My most recent hunt with Mike was a land based Brown bear hunt. We saw many different bears every day but just didn't have an opportunity at the trophy bear I was looking for. Great guides, food, and operation as a whole, you can't go wrong!"
Jason Carter
PO Box 2978
Cedar City, UT 84721
435-263-0777

Litzen guide services ,made sure that I have a wonderful experience in my bear hunt ,Mr. Litzen and his team of guides are very knowledgeable of what they need to do to get you what you looking for I would not go with anybody else ,They can hunt as hard as you want or they can take it as easy as you need ,if you thinking in going to a bear hunt ,I recommend  that you do it in the boat , you will cover a lot of ground and see a lot more bears, I was lucky enough to be there in my birthday and I even have a birthday cake. These guys are amazing I would be going again when I have the opportunity!
Federico Perez
Lindon, UT
(801) 815-9255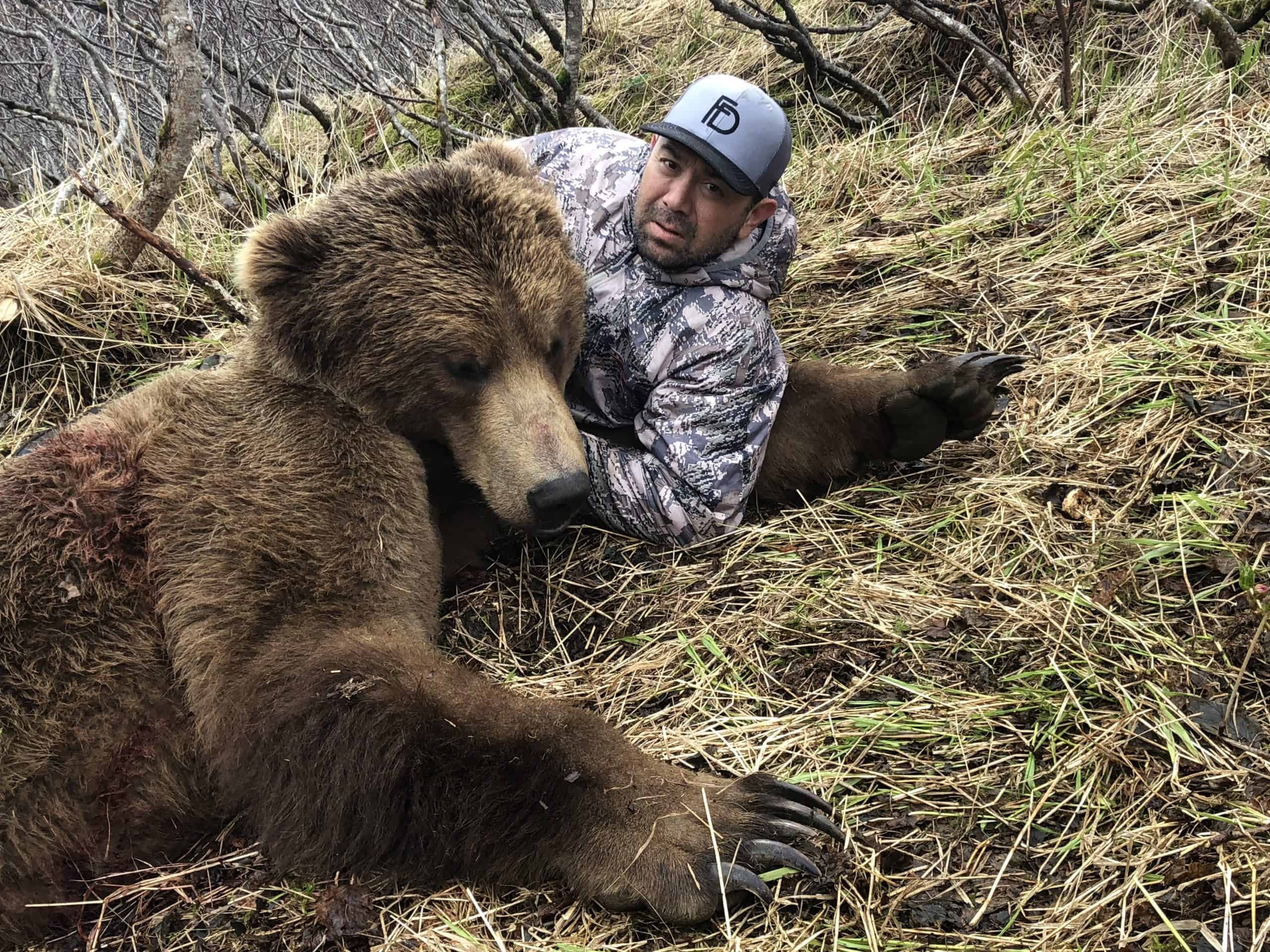 Mike
Thank you for a successful and memorable 2018 spring bear hunt.  This was my second trip on the boat and 3rd hunt with you and as always you never disappoint.    You run a top notch guide service and I will always tell people you are the best in Alaska.  Thanks to you and all your guides who work hard to make sure the hunt is a memory.
Hopefully see you in South Dakota for a beer this Fall.
Thanks
Joel Van Ravenswaay
Wheatfield, IN
(765) 490-6729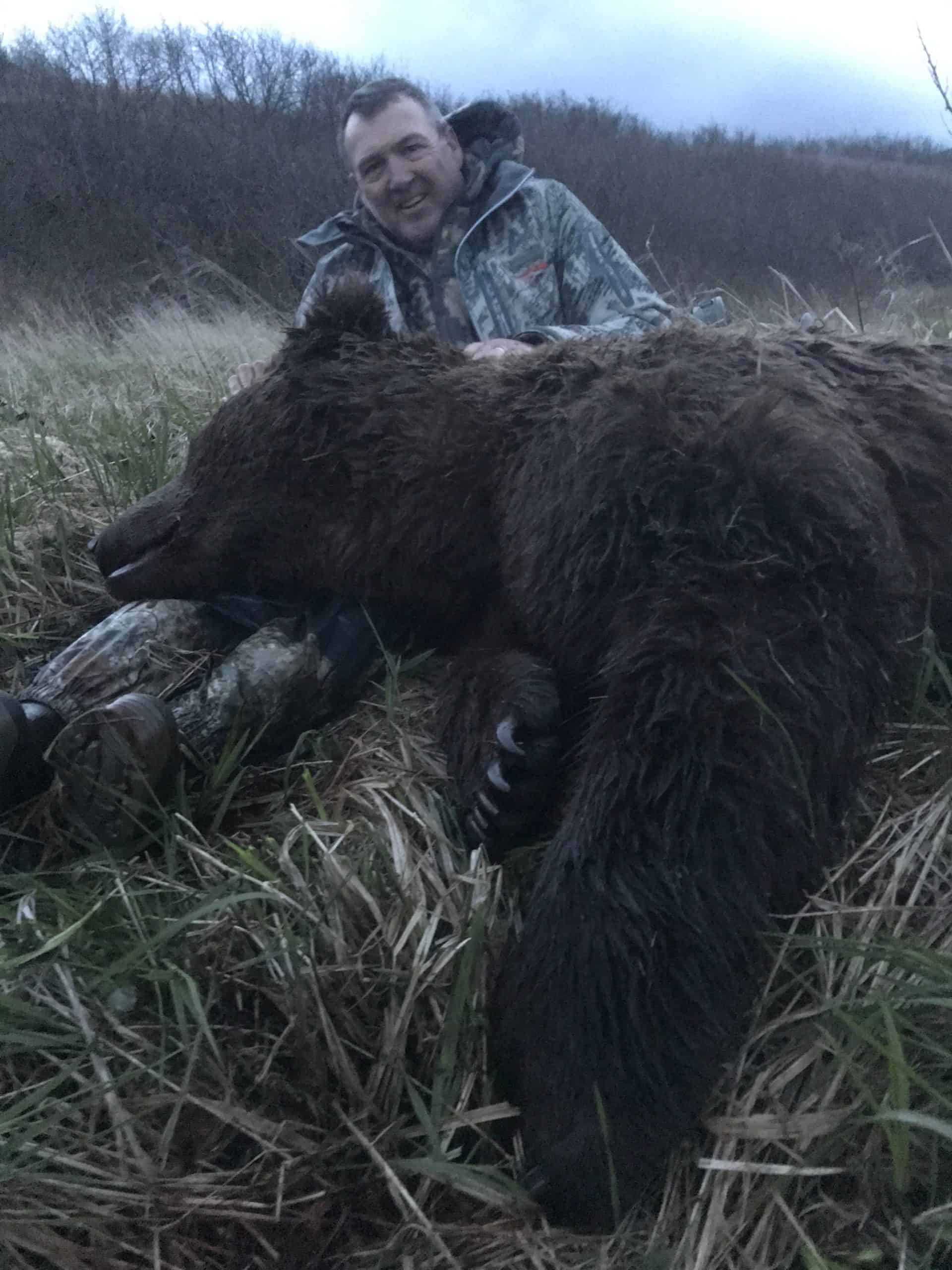 I had the opportunity to Michael Litzen on a ten-day brown bear hunt in May of 2018. The experience was one I will never forget. On the 5th day Michael put me on a very good bear. I told him that I wanted to pass and try for a monster. For the next 5 days we saw several extremely big bears but they zigged when we zagged. I have big game hunted for 53 years, and it was a true pleasure to hunt with Michael. I especially appreciated him respecting my decision to pass on nice bear that we did. All of the other guides were very friendly and experienced. The accommodation and food on the boat were excellent and I would highly recommend this hunt to anyone looking for a unique quality brown bear hunt.
Michael Flanagan
McCall, ID
208 867-6702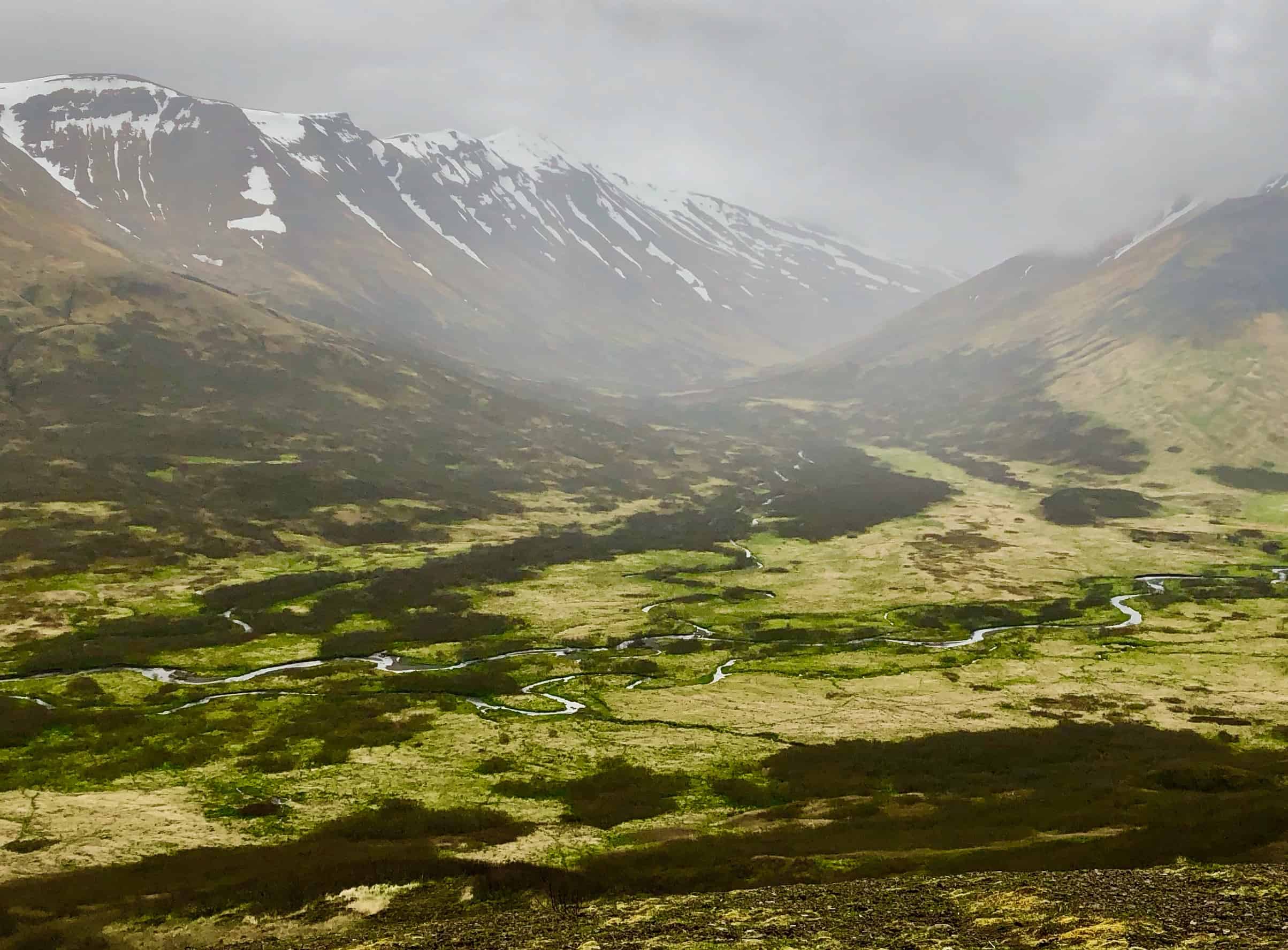 This was my third hunt with Litzen Guide Service and it seems to always leave me speechless for weeks. The scenery, wildlife, hospitality, and overall hunting experience have left a huge impact on my life and I will be forever grateful. Your guides are always prepared and willing to put in the hard work for your clients and make the hunt very enjoyable and successful. I was able to take this gorgeous 8 ½ year old ram on my 4th day of my hunt. Ron was an absolute blast to go up the mountain with and I truly enjoyed learning from his vast knowledge of sheep hunting.
Mike, thank you again for another first class experience on my sheep hunt this past fall. Your hospitality, experience, and dedication always make for a trip that we will cherish for years to come. I hope to see you soon for another hunt of a lifetime.
Andrew Palmer
Davenport, IA
563-370-0404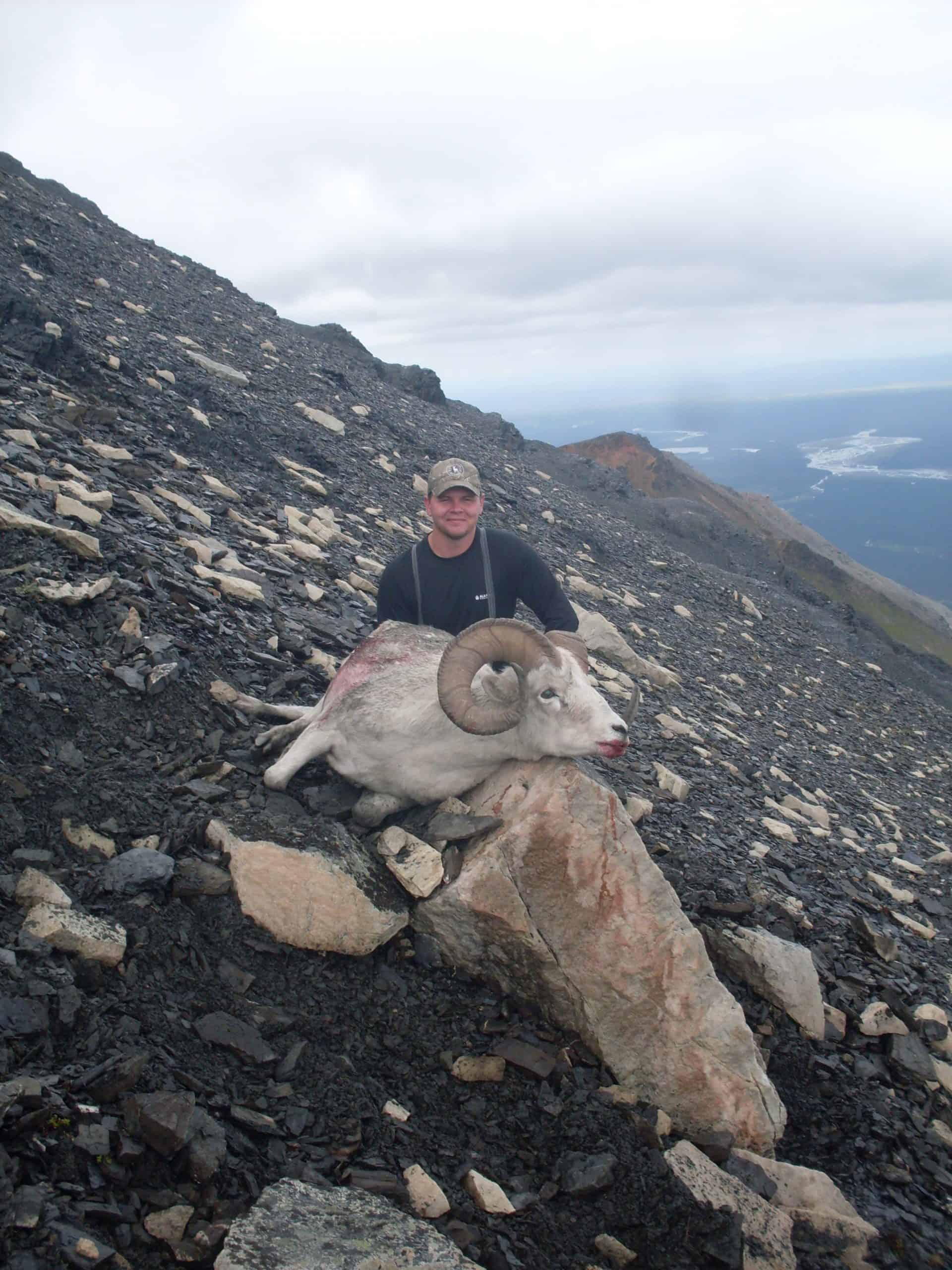 Mike,
Thank you. I do not know what else to say, but this was a hunt of a lifetime.  I booked a hunt for bear in 2019 and saw your moose and was able to fill in for a cancellation. Whoever cancelled really missed out.  Everything was well organized and a great time.  Shay, your guide was a lot of fun, like hunting with a friend.  He was also a great guide, calling the moose in just liked planned, what a thrilling experience. I want to hunt sheep in the future with both of you, as well as bear next fall.
I have no reservation recommending you to anyone.
Thanks
John Smith
419-217-4570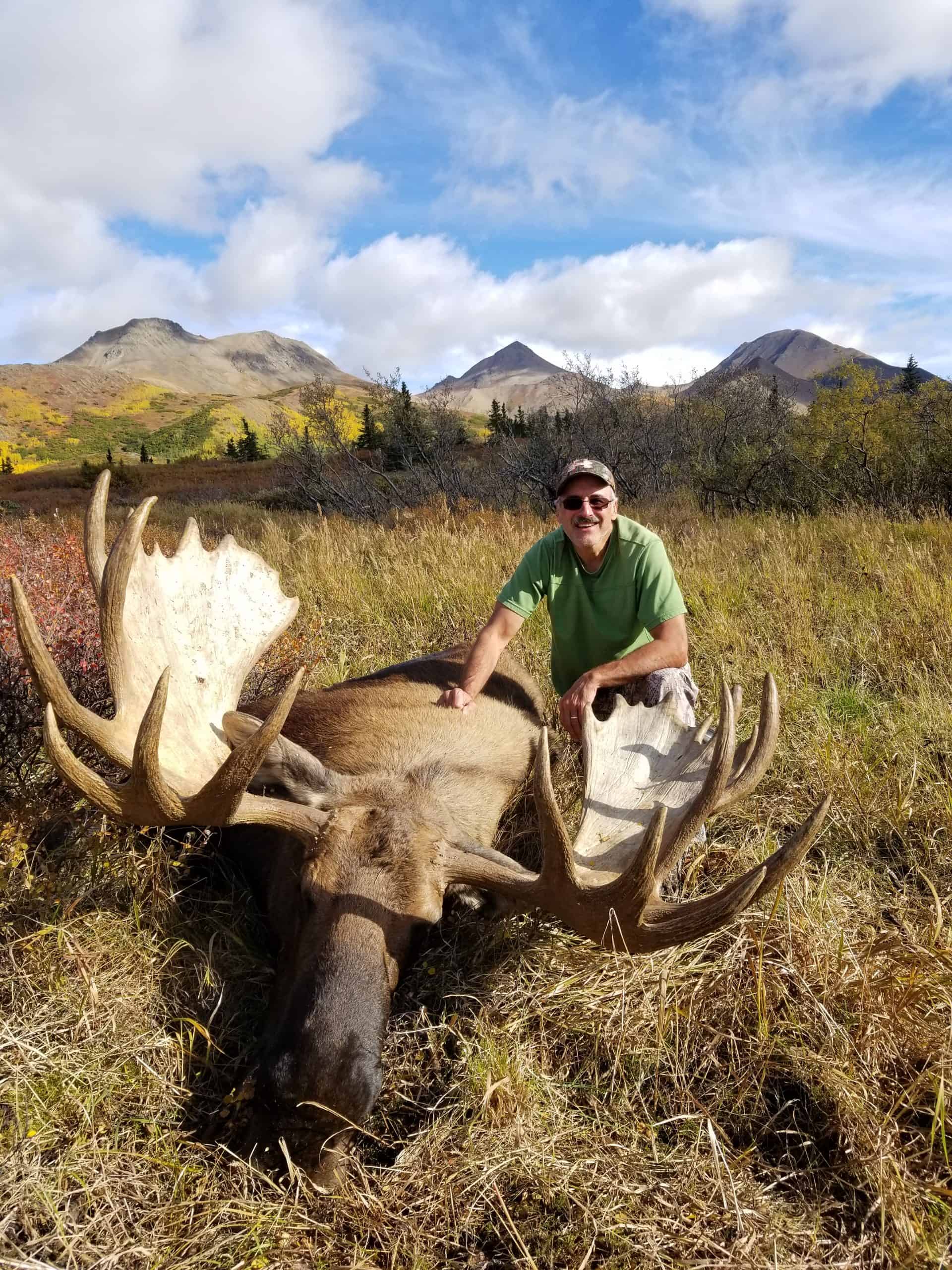 This was a once in a lifetime hunt, that I have done twice.  My first trip in 2016 for Dall and Grizzly, was amazing; professional staff with Brad Patterson and Brock, safe and thoughtful leadership from Mike and a hunting range without compare to anything I have seen before.  I missed my chance at a huge ram after seeing many throughout the week due to gun issues but was successful the very next day on a mammoth Grizzly.  I just couldn't get past not getting a Dall, so I booked again with Mike for 2018 and what a hunt!  For 4 days we climbed and stalked three huge rams, but one stood out from the crowd.  I was lucky enough to have Brad as my guide again on this hunt and what a hunt.  He crafted a flawless stalk on my ram, amongst 13 other sheep.  In the end, a great game plan and a little luck had my ram close the distance from 600yds to <50yds.  My ram made the elusive 40" mark and my hunt of a lifetime was fulfilled.  The quality of the camp, the area, the guides, and the planes is unsurpassed in all my trips to Alaska.  I have gone on more than 10 hunts in Alaska and more than 20 fishing adventures, but you will not find a better run operation.  If an Alaska adventure in on your bucket list, which it should be, Mike Litzen and his team is the outfitter you want.  I'll be back for Coastal Bears soon and might even try to put a second moose on the wall based on the caliber of animals seen. 
Bill Smith
Overland Park, KS
574-575-0779
Kimbill464@sbcglobal.net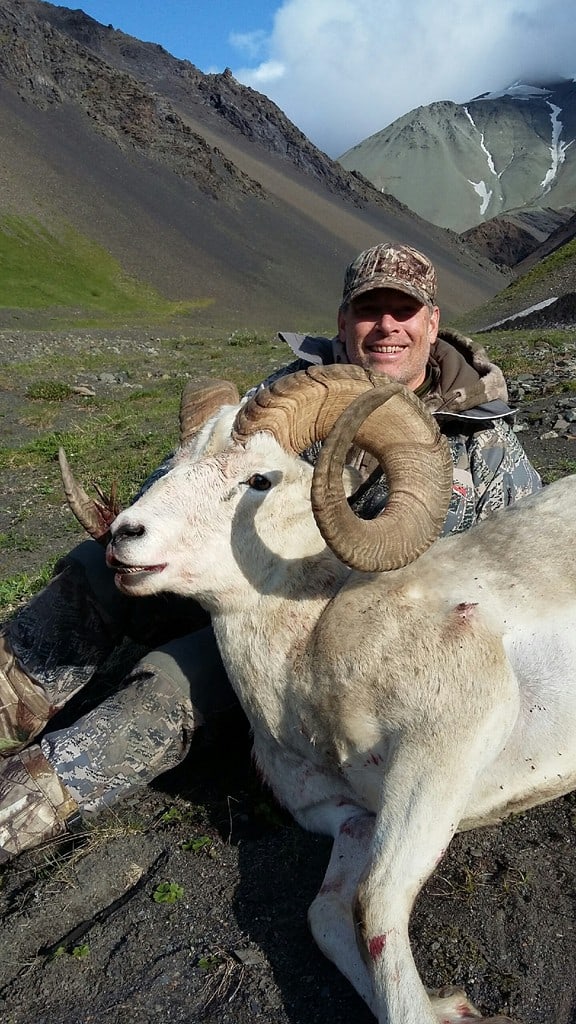 I have always dreamed about a moose hunt in Alaska.  I asked a friend who guided hunts in Alaska who he would recommend.   His top recommendation was Mike Litzen, Litzen Guide Service.   I am extremely happy I followed his advice.  The first time I talked to Mike he encouraged me to reach out to any of the references listed on his website.   Mike is not only dedicated to getting you the trophy of your choice, but he is committed to provide a quality hunt that you will always remember!  
I booked my 2018 Moose & Grizzly hunt with Mike and I was not disappointed!   From the time I met Mike in McGrath to the time I left, he and his guides were professional, friendly and willing to make my hunt memorable and an exciting experience.   Once we landed in basecamp, Mike had me hunting the next morning!    On the morning of the 3rd day, I had a 60 inch monster down!  
Anyone looking for an experienced guide who will do everything they can to make your hunt successful needs to call Mike!
Thanks again Mike for taking care of everything and making my Alaska hunting experience a dream come true!
Elmer Knockel
Rochester, Minnesota    
507 288-3077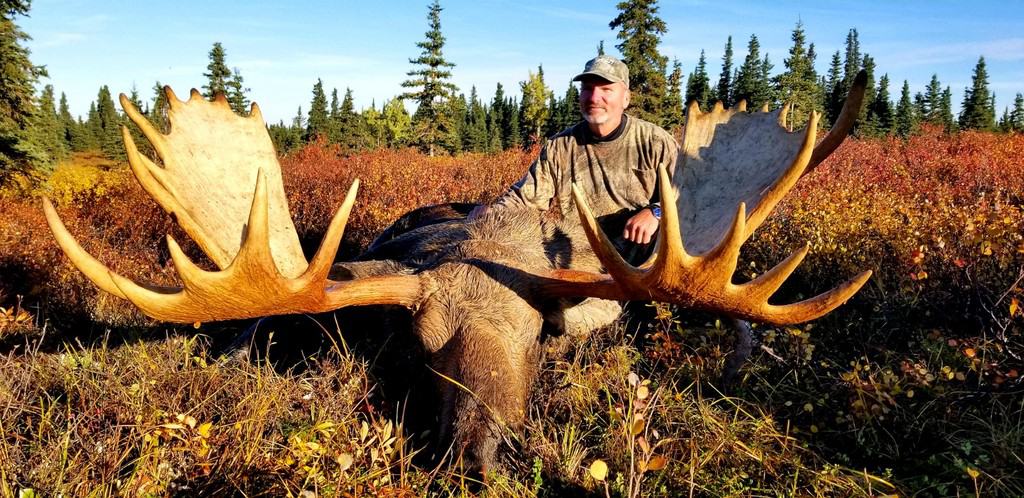 I've been fortunate to have had several  "once in a lifetime" opportunities and my 2018 sheep hunt with Litzen Guide Service was by far the best.  After enduring our fair share of Alaskan wind and rain, I was fortunate to take a 9 year old heavy ram that far exceeded my expectations. I've never had as much fun being cold and wet as I did on this hunt. Shay was a great guide. His knowledge and experience in the area was a key piece of our success.
Mike's operation is extremely well run and his planning and coordination is meticulous.  Mike did everything he could to work around the weather to get us into and out of the field. The entire team was friendly, welcoming and accommodating – truly first class.  I really enjoyed the brief moments in base camp before and after the hunt. Being in good company in such an amazing place made a great hunt even more memorable.  Thank you for a great experience and an awesome ram.
BJ Lemieux
Albany, MN
320-267-0405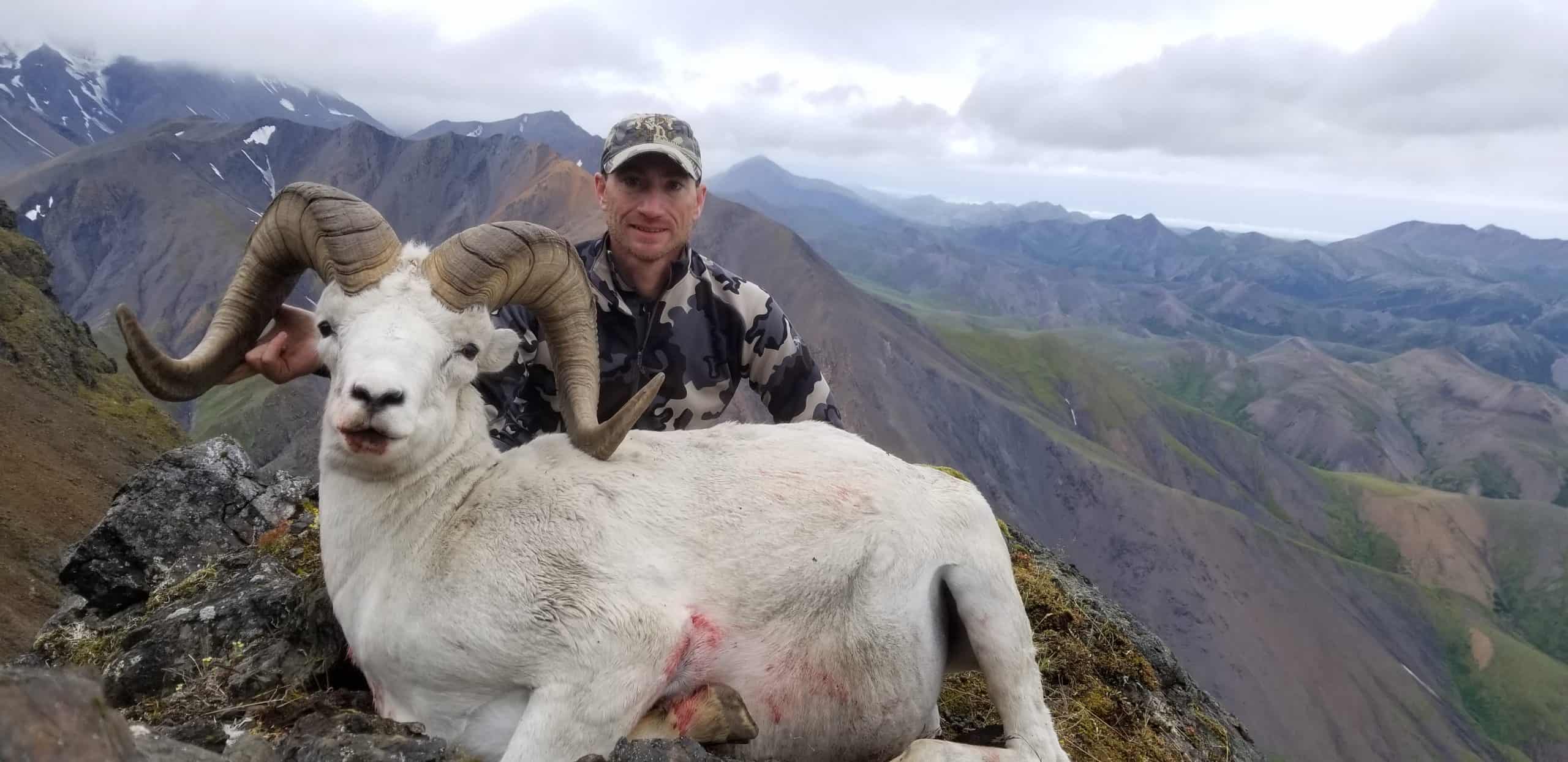 In my opinion 4 things make for A HUNT OF A LIFETIME:  a quality outfitter and guide, a game rich hunting area, great logistics and other outdoor experiences. Litzen Guide Service exceeds in all four of these areas. Mike kept the logistics running smoothly by providing supplies, piloting and generally meeting the needs of the hunter.  Jon Salgat was my guide and provided knowledge, experience and maintained a friendly, accommodating atmosphere all during the hunt. I can't say enough about the quantity and quality of game in the area. We saw abundant numbers of moose and caribou in the area I hunted. On the fifth day Jon called the trophy moose of a lifetime in from about 1/2 of a mile away, to within 150 yards for an easy shot for me.  Words cannot explain my satisfaction about this trophy moose; it may go in the record books. We then turned our attention to hunting caribou. When things hit a lull Jon would make a cow call and the moose would come trotting in. He probably called in 9 moose. On the seventh day he called one in from about 600 yards away to within 16 yards of us. This one was definitely a shooter and had both of our hearts beating fast. On the eight day Jon spotted a grey wolf about 400 yards out circling the moose carcass. Somehow he got me in position for a 200 yard shot that I missed.  All of these experiences/things I have mentioned made for A HUNT OF A LIFETIME for me. Can't say enough good things about Litzen Guide Service. Thank you and I am looking forward to another HUNT OF A LIFETIME with Mike and Jon.
Ronald Joe Robinson
Cleburne, Texas
817-517-4828
817-645-6122