This was my first hunt with Litzen Guide Service and it was a great experience.  We glassed two nice grizzlies on the eve of the opener as well as a couple bulls–one of which was a trophy.   We couldn't locate the bears the next day but my guide, Shay, and I stretched our legs quite a bit playing cat and mouse with that big bull for a couple of days before he decided to head for parts unknown.  On day four I spotted a tremendous solitary bull caribou that we agreed was too good to not go after and, after a long stalk, Shay put me right on top of him. Precious hunting time was saved thanks to Mike flying in a packer who had an adventure of his own while being socked in for an extra day.  Shay and I were able to continue hunting for moose and we saw a lot of nice bulls–one absolute monarch.  But on day 9 Shay spotted a grizzly up high above the mountain valley. We made the climb but were unable to locate him after tiptoeing around for a few hours, so we dropped back down to focus on moose.  As soon as we reached the bottom we spotted the bear again.  So back up we went. On the second stalk were able to find him–a big old boar–and that ended my hunt:  Two beautiful animals.  Shay worked really hard for me. My thanks to Mike, Shay and the rest of the crew.  It was a great hunting adventure.
Brian Tessin        Charlotte, NC         Cell (989) 948-0200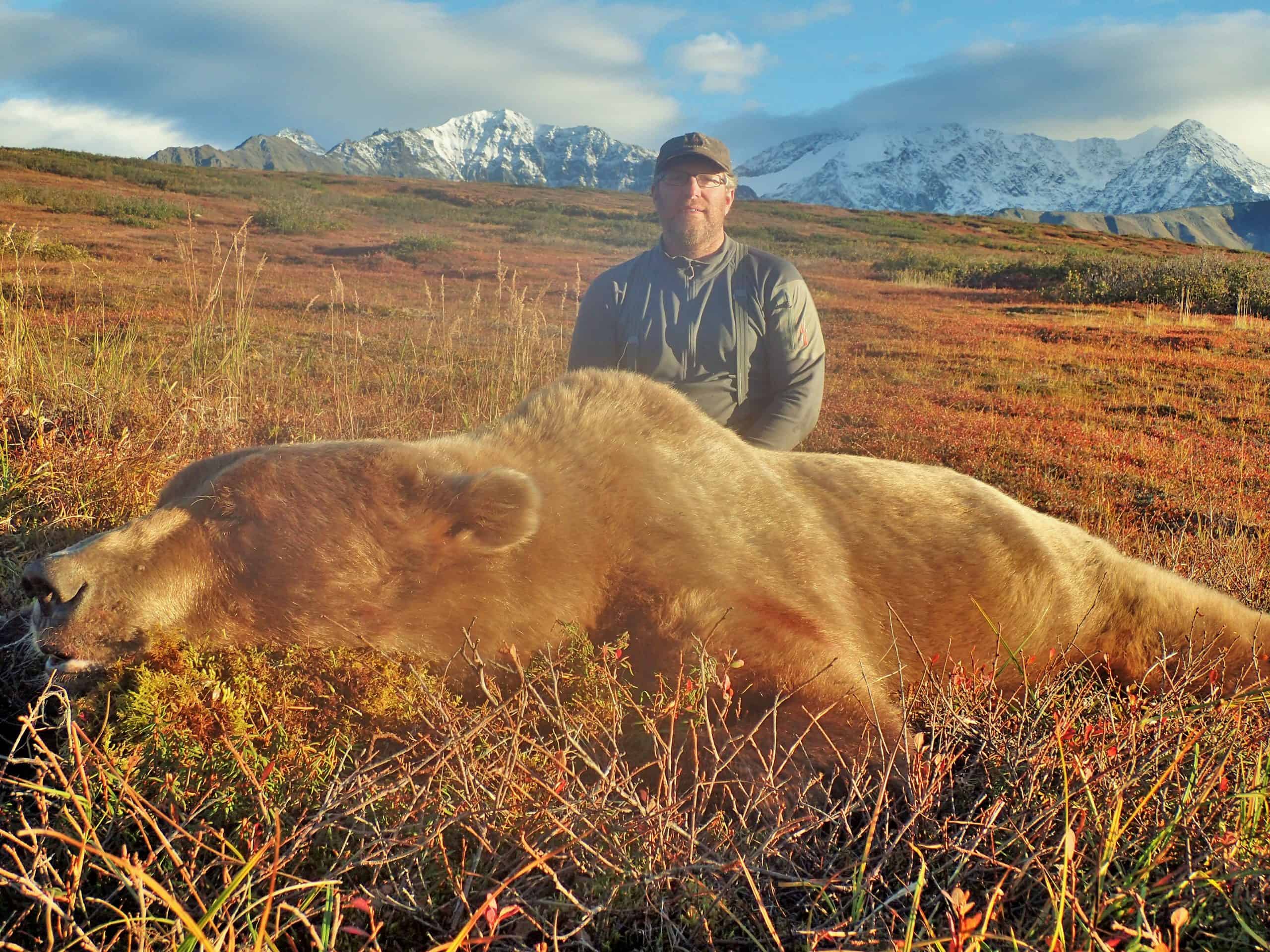 Litzen Guide Service, specifically Mike Litzen and John Salgat in my case, provided the setting for a great Alaskan moose hunting experience in 2016.  The camps were well thought out with respect to location and access to the prime hunting locations, and Mike was very well organized in moving hunters, guides, gear, and supplies from base camp to the different hunting camps, maximizing hunting time in the field.  I did not harvest the moose until day 9 of a 10 day hunt, but John never wavered in his enthusiasm and dedication to helping me succeed in the harvesting of a trophy of a lifetime.  Success required patience, spike camp relocation, Alaskan air drops of supplies, and some good fortune with the temperamental weather.  Whether it was stories to pass the time while glassing, history lessons while fighting through alders and 'shin tangle', or competition to find the best tasting patch of blueberries, John Salgat went above and beyond to provide a complete experience.  I would be remiss however, if I did not mention that once the trophy was harvested, thank god for the young packers!  All of the people I met that were associated with or worked for Mike were top shelf and made me feel as a part of their 'group'.  I would highly recommend Litzen Guide Service and with some good fortune, will return myself someday.
Fred Bronnenberg       Cody, Wyoming 2016      (307) 351-7387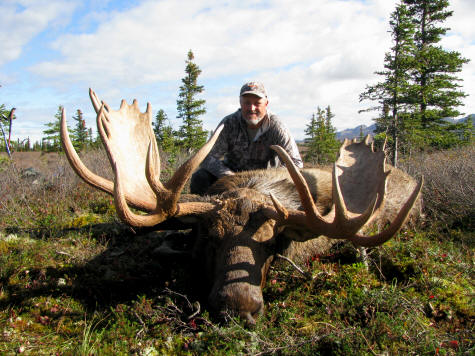 Mike,
My 2016 hunt with you was one to remember. The moose and caribou that I got exceeded my expectations.
Your attention to detail and organization is why it's easy to recommend Litzen Guide Service to anyone looking to hunt Alaska.
I would like to thank Jason Reinalda my guide for all the hard work and effort he put forth. He's a great person and I enjoyed my time with him.
Again thanks for providing a successful Alaskan Adventure. Hopefully someday I can return.
Patrick J. McLeod
Groathouse Construction, Inc.
Cody, Wyoming
Cell 307-431-1828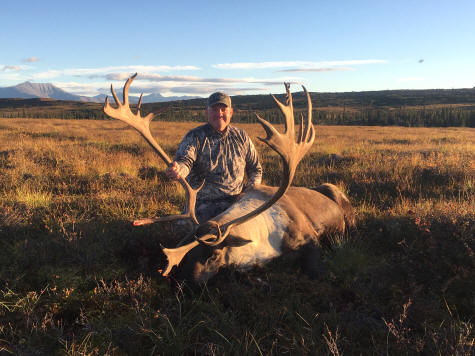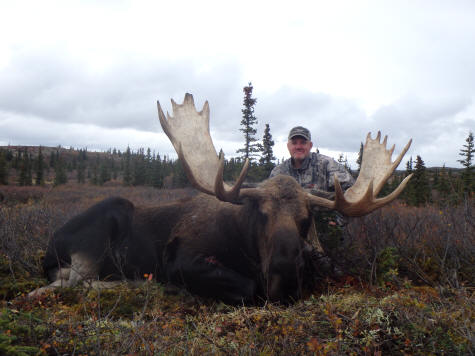 I have recently returned home from my second Alaska hunt with Litzen Guide Service in 2016. It has been my pleasure to have had 2 successful hunts (Caribou and Moose) with Mike and his staff. The Moose hunt this year turned out to be quite memorable. My guide George Taylor (MSG) made an extraordinary effort to make my hunt a success. I cannot thank him enough for his efforts. If you are considering booking an Alaska hunt, please do not hesitate to give Mike Litzen a call. Mike and his entire crew will make every possible effort to provide a safe, successful hunt. They are simply top notch in all respects.
Bill Young
Bendena, KS  66008
PH: 785-988-4428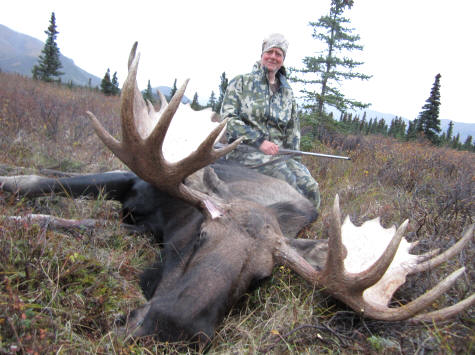 Litzen Guide service helped me achieve a boyhood dream.  My guide Brad was both experienced and professional, but most importantly great company. The country is breathtaking, the level of service from Mike and his crew exemplary, and all of the support Mike has arranged from others is above expectations. Simply put I am grateful I was referred in Mike's direction and anyone seeking to achieve their dream of hunting for Dall sheep will certainly enhance their experience through the services provided by Litzen Guide Service. I hope to return to Alaska in a few years to achieve another dream of taking a Caribou and Grizzly: Litzen Guide service will definitely be the outfitter of choice!
Chris Sundstrom
Vancouver WA
(360) 904-5644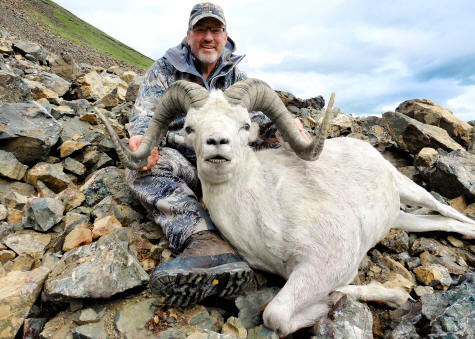 Dear Mike,
I want to thank you for the really "killer" Alaskan Brown Bear hunt.  You and all of your guides were extremely knowledgeable and professional.  As you know it has been quite some time since my last hunt (20 years), and it showed on day one when I couldn't spot a bear at 600 yards.  However; by day three I spotted a monster Brown Bear at well over a mile.  Joel and I pursued and at 1500 feet above sea level, brought the big boy down with three quick shots from my Blaser Jaeger R8 375 H&H magnum.  As you know the Blaser R8 has a really fast slide bolt action. 
My Bear was well over 10 feet and the skull is a Boone and Crocket 27 & 0/16ths inches qualifying it for trophy status in the Boone and Crocket Club .  The taxidermist you recommended was also awesome to work with, and I cannot wait to get my full body mounted bear back!
I'm looking forward to my next hunt with you and your team.  It will probably be a Dall Sheep hunt.  Oh did I mention the crew?  Both Ross and Chris were great captains, who could really serve up the chow along with an entertaining story or two at the same time.
Again many thanks and see you soon!!
Sincerely,
James Shosh (Kennesaw GA)
Kennesaw, GA (678) 516-2854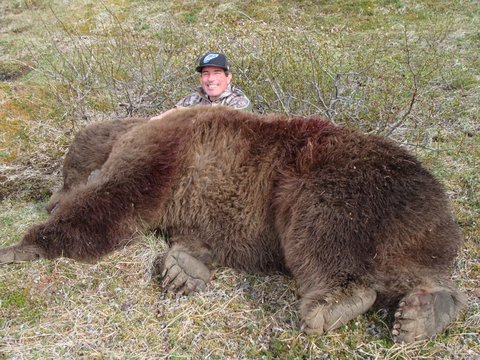 "Thank you for the hard work and paying attention to every detail to make this hunt fantastic. From the great food at base camp, the great guiding/calling of Shay, the unbelievable beauty of the land, and Michael's expert flying, there is no better place to hunt Alaskan moose than with Litzen Guide Service. This year's hunt proved the weather in Alaska can be challenging, but Michael's preparation was there. We saw over a dozen bull moose, multiple Dall rams, ptarmigan, caribou and two grizzly bears.  Shay is the best guide I have ever met and his moose calling was vital to our success. 
I can't wait to return and again feel the challenge of hunting Alaskan game with Shay and flying with Michael. Thanks again for another wonderful hunt and the camaraderie of your camp."
Mackenzie Hunt
(575) 973-5172
Broadview, New Mexico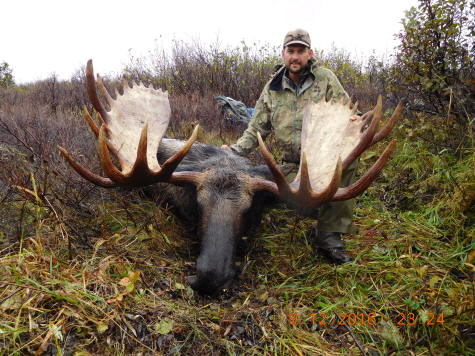 Michael:
I wanted to say big thanks again for another great hunt. All 4 of my hunts over the last several years have been incredible experiences! From the nice caribou to the huge moose, followed by the B&C coastal brown bear and finally the dall sheep. I couldn't have asked for better guides and service. Hoping one day I can do it all over again with my bow.
Take care and keep up the fantastic work.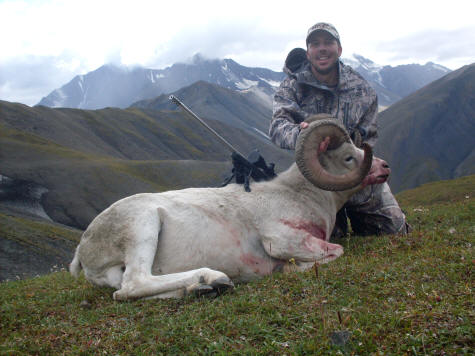 Dear Mike Litzen,
Thank you very much for doing everything in your power to make my hunt the experience of a lifetime.  You, your guides, and boat captains are some of the best people I've met. Intelligent, safe, generous, hardworking, courteous, and fun loving are few words I would use to describe you people. Congratulations on finding and retaining such a wonderful staff.
To my guides Don (Fall 2015) and Kurt (Spring 2016) a special thank you. You are the reason these hunts are so memorable. Being in a land as beautiful as Alaska, and being able to share it with men like you has truly been an honor.
Thank you to some of the other guides I met: Joel, Ben, John, Howard for helping everyone. Your team effort attitude is truly appreciated. Also, thanks to the captains: Chris and Ross. Your vast knowledge of seamanship, wildlife, fishing, cuisine, and storytelling added tremendously to the whole experience. And finally, thank you to the other hunters I met: Ted, Frank, Tony, Mike, Matt, and Danny. We should feel blessed to have experienced a trip so wonderful, and sharing it with guys that have the same passion is awesome.
For you hunters considering an experience in Alaska, look no further than Litzen's Guide Service. Become part of the brotherhood and make some friendships for life. And, for those of you who need a big bear to accentuate the whole experience, don't worry because this is the Mecca of large brown bears.
Pete Kolaric
Willoughby Hills, OH (440) 448-5590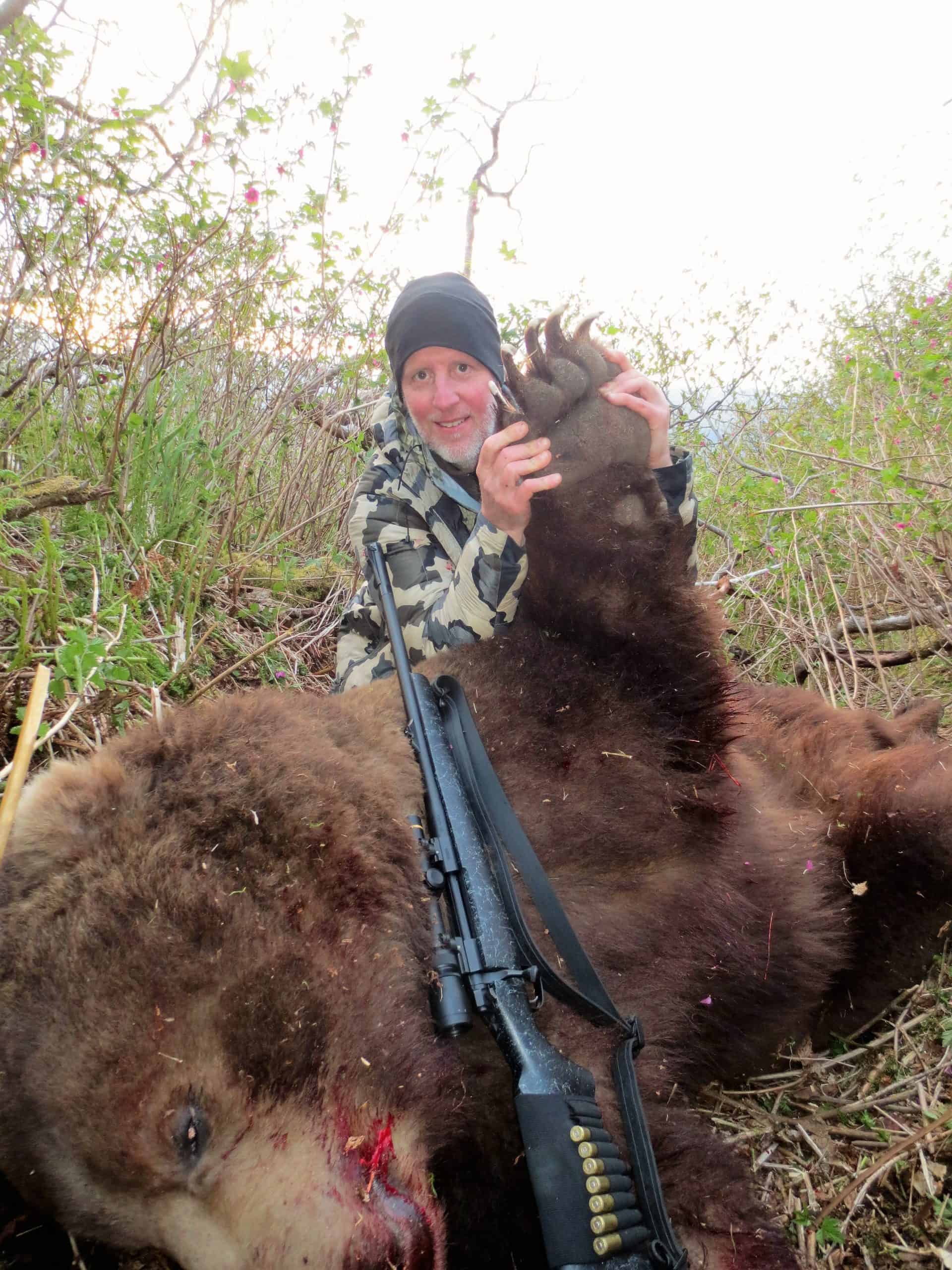 Mike and Staff
What an amazing adventure with you again. This being my third trip with you and once again. One AMAZING ADVENTURE. After spending 8 days in the Alaskan wilderness. Sleeping in a cold sleeping bag and eating freeze dried food in a bag and walking miles every day and to end the way it did, could not have been better. Seeing moose and caribou every day and the grizzly chasing the moose is memories I will never forget. On the morning of the 7th day, Brad Patterson my guide was excited and never gave up on me. We were rewarded with a 65″ trophy moose. (A moose of a life time). I realized that day that not only Brad but everyone at Mike Litzen Outfitters wanted that moose as bad as I did. You fly to check on us every day. Dropping us care packages on those cold days and Brad and I giving you something back I'm sure you will never forget. 9′ Brown bear, Full curl Dall sheep and now a 65″ Yukon Alaskan moose PRICELESS. Thanks to your packers and Tom for the great meals at your main camp. All this added together equal one AMUSING adventure. My hunting partner Bobby Brown taking a great moose with his bow is icing on the cake. The best part about all of this is meeting and making friends for life. If you are reading this and have not booked your dream hunt with someone else, stop looking. No one in Alaska does it better than Mike Litzen
Outfitters.
Joe R. Wilson, CAI
Wilson Real Estate Auctioneers, Inc.
http://www.wilsonauctioneers.com
929 Airport Road
Hot Springs, AR 71913
1-877-243-2289 Toll Free
1-501-622-8140 Cell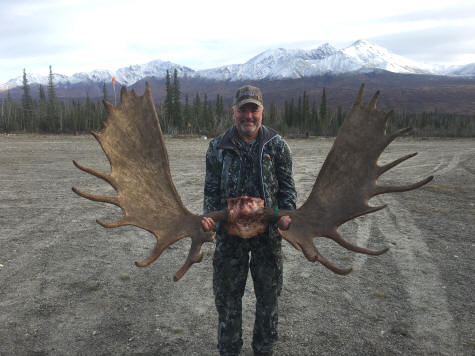 Mike,
RE: 2016 Spring Bear Hunt
Thank you and your Team once again for a memorable hunt. I had the opportunity to hunt with you in the Fall of 2015 and this Spring Hunt was nothing short of my first hunt. As before my guide and I hunted hard and long, we were patient and when the time came we made a quick decision and never looked back. The stalk was fast and physically demanding but we took advantage of an opportunity and it worked in our favor. Specials thanks to Ben Thimons for reacting quick and being knowledgeable of the area; he lead me right to where that bear was going to be. Mike, my family has hunted with you for many years and has a deep respect for you and your business thank you for allowing me to be a part of that and I look forward to future hunts with you and your Team. Will see you in 2017 for my Dall Sheep Hunt!
Frank Spencer III
1200 Wyoming Ave. El Paso, TX 79902
July 13, 2016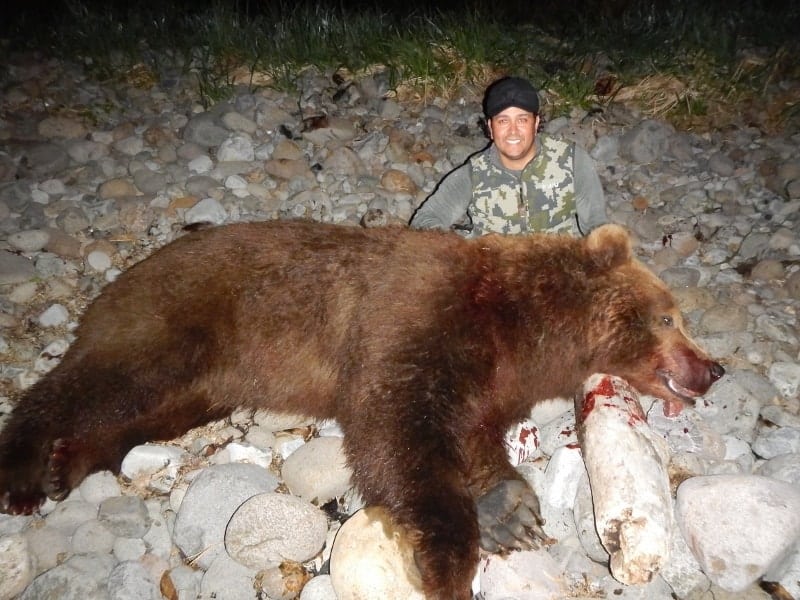 Mike
I would like to thank you and your great crew for an awesome Dall sheep hunt. Your organizational and piloting skills are unmatched. My time spent with Ron Heidemann on the mountain will never be forgotten. I look at the ram we took every day and the memories flood back. I look forward to hunting with Litzen Guide Service again in the future.
Marc Rue
Fargo, ND
701.219.1730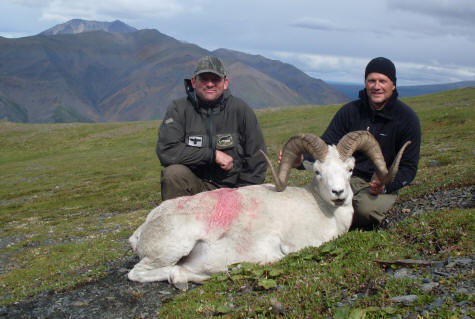 To Mike and Family
I have done 2 unsuccessful hunts with Mike and that's just hunting. Mike and his guides went far above their duty to find animals. I have been on a lot of hunts and Mike is a first class guy and runs a top notch show. His word is better than a contract. That said I'm looking forward to hunting with him again in 2018. (And a beer in South Dakota come pheasant season).
Thanks my friend
Joel Van Ravenswaay
(765) 490-6729
Wheatfield In.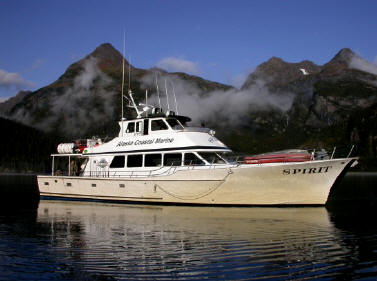 This moose hunt was my second hunt with Mike Litzen, the first been brown bear.   I've hunted with three other outfitters and no one comes close to the service, coordination, effort put forth and hospitality Mike and his staff and guides provide.  Everything was coordinated well in advance of my hunt which provided me and the other 4 hunters a strong sense of security and comfort.  We talked several times on the phone to make certain all my questions were answered.  When we arrived in base camp we were greeted by a friendly staff and started preparations right away to get to our hunting sites.  I saw at least 10 different bull moose during my hunt and probably an additional 10 to 20 during my flights to and from our spike camps.  I would highly recommend Mike Litzen to anyone wanting the experience of a lifetime hunting moose or bears in the beautiful wilds of Alaska.  Not sure that I got to thank you Mike for a wonderful experience as we rushed to catch flights ahead of the strong winds heading to camp.  Thank you and Thanks to Jon for being an excellent guide. 
Mike Dennis
Metamora, IL
309-253-6592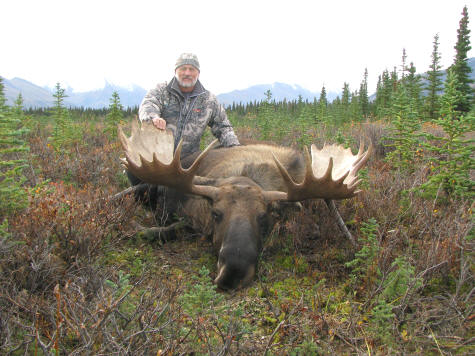 Mike – I wanted to thank you again for the incredible hunt that Matt and I had.  You and your team exceeded every expectation we had coming in to Alaska!  Your focus on safety, professionalism, and your outstanding equipment sets Litzen Guide Service apart from all others.  From the time we landed in camp there was a sense of urgency with everyone involved to ensure we had an incredible experience.  Your operation truly sets a standard that all other should be judged by.
I can't say enough about our hunt.  We definitely hunted hard but were constantly kept positive by Shay that we would connect on the ram of my dreams.  Train hard, shoot every chance you get, and be prepared to accept what Mother Nature throws at you.  Taking this ram was truly icing on the cake.  The experience you provided alone made our trip.  We hope to be back in your camp many times in the years to come.  Don't worry, two rednecks can provide all of the entertainment ya'll need!  YeeeeYeeeee!
9 Year Old Ram    14.5″ Bases       37″ Long
Jess Foshee   San Antonio, TX   (281) 898-8092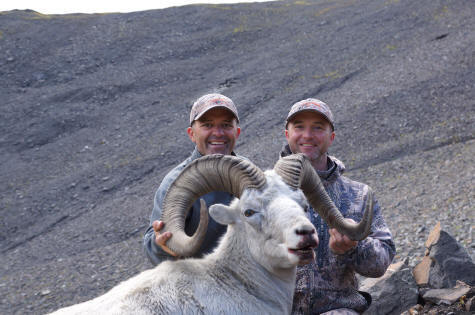 Dream Hunt of a lifetime
It wouldn't be farfetched to say a big part of my heart and soul lives in Alaska; its unbounded beauty and sheer mass never ceases to amaze me.   Mike Litzen and his team makes this experience, no matter how my times, a trip of a lifetime each and every time.  Whether you're hunting magnificent Dall sheep, Trophy Yukon/Alaska Moose or Caribou in his interior camps or experiencing the huge coastal brown bears on the peninsula – it's a checklist trip of a lifetime.  I've been fortunate to do them all.   Truth be told, I would like to be buried there!
The Coastal Brown stands out (well maybe not the Dall sheep – that's rocks!!!)
I have hunted bears before with varied success – that's bear hunting.   The Litzen crew makes it worthwhile to come back and finish unfinished business.   Mike's territory is amazing to say the least.  The habitat, salmon streams and denning environment makes it ideal for Monster Bears.  This is exactly what we encountered with Mike.  After my guide Joel Doner spotted a "suspect" from the comfort of the 65' boat we began our strategy to come ashore and put a hunt on this bear.  After an awesome hike and stalk it all came together.  The wind was perfect,  105 yards away from bear of a lifetime.  The .375 answered the call with an opportunity to notch my tag on a record 10′ 6″ Monster.
Ted Kruzan, Ankeny, IA
(515) 490-7511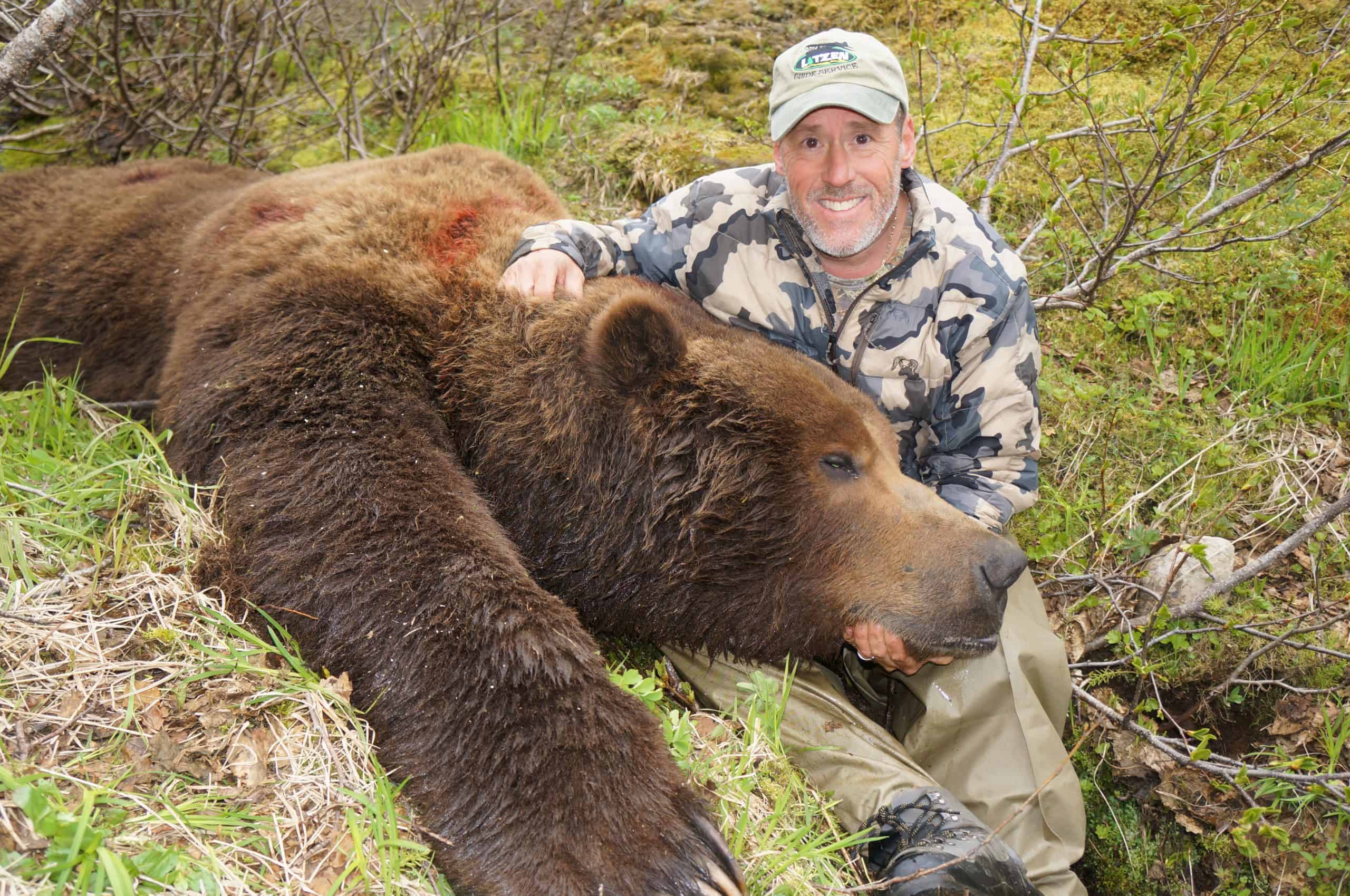 Mike,
It was busy when we said our good byes.  So I wanted to again thank you for a trip of a lifetime.  I feel truly blessed to have had the opportunity to hunt for these amazing animals.
Your camp, guides and equipment were all first class.  I really enjoyed having Brad as my guide.  He really knew his animals and did a great job for me.  Would hunt with him anytime.
Weather was unbelievable and the sites were incredible in spike camp and base camp. 
Quality and quantity of sheep was over the top.  You have done an excellent job in managing your animals.
Pat Obrien
Otsego MN
612 669-7911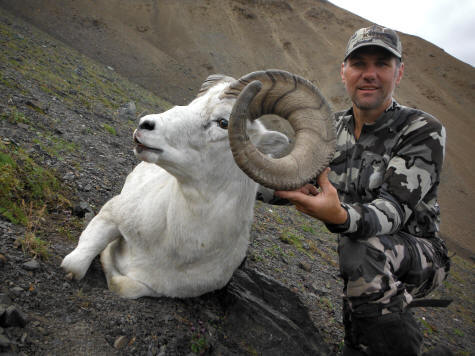 Mike
Just wanted to sincerely thank you for the experience of a lifetime.  An Alaskan adventure that I could have only dreamed about previously.  My Archery quest for a Yukon Moose started in 2014.  After researching thoroughly and checking with many of your past hunters like Joe Wilson from my hometown of Hot Springs, AR I knew that Litzen's Guide Service was the best choice for me.  Every detail was so well planned out that I really appreciated all the preparation that went into a first class experience.  My 2016 Archery Moose trip with your group was the best hunting expedition that I have ever taken.  Your guide Jason Reinalda was a true Alaskan expert guide.  All your staff was amazing taking the time to make sure that every need and expectation was taken care of.  From your Head Chef Thom Clay sending out special goodies to our spike camp to your other guides Shay & packers Brock from Salmon, ID everyone went overboard to make me feel at home.  A special treat was flying the Alaskan bush in your Cub and the scenery of Denali Mountain.  Beautiful country.  I can't wait to come back and go after Sheep and Brown Bear with your crew.  Thanks for everything.  Please tell anyone to call me if they ever need to know who the best guide service in Alaska is.
All my best,
Bobby E. Brown, Jr.    Hot Springs, AR      (501) 282-8593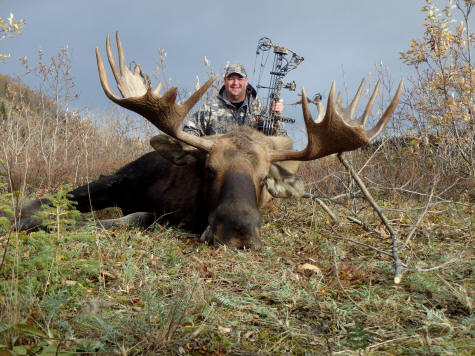 Our recent Coastal Brown Bear Hunt was an amazing trip.  I always wanted to hunt a coastal brown bear so this was a "Bucket List" trip for a 73 year old man. The trip lived up to my expectations and was even better than I expected.  I chose the boat trip instead of a land camp because my wife wanted to accompany me on the trip.   The accommodations were excellent, the food was great, the staff was very helpful and our guide was very knowledgeable.  Everything went smoothly and I would recommend Litzen Guide Service to anyone making a coastal brown bear hunt.
Bill Hough Gulfport MS
(228) 861-6950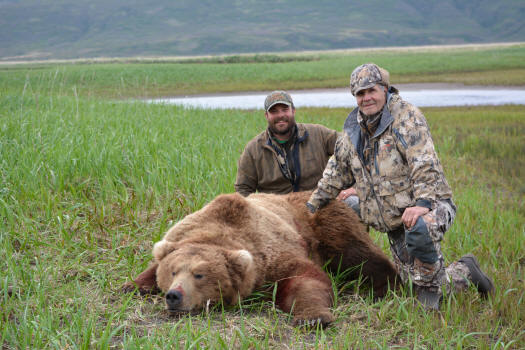 Mike, I would like to personally thank you for guiding me on my first spring brown bear hunt.  Your attention to detail and the client is nothing I have ever experienced and is second to none.  I can tell guiding is a passion for you not just a hobby.  Your knowledge of the surroundings, on a normal year would have put us in exactly the right spots to harvest a trophy of a lifetime but Mother Nature did not cooperate.  The willingness to go the extra mile, literally to harvest a brown bear really showed me you wanted me to come home with a trophy.  Let me add, the accommodations were very comfortable.  The Captain and crew was a fun, lively bunch of guys that even though the hunting was slow they made sure we were having a good time.  That's what I like to see in a hunt, good natured, fun loving people!  Keep up the good work and look forward to seeing you in the future.
Derek Herrema
Fair Oaks, IN
(219) 477-8190