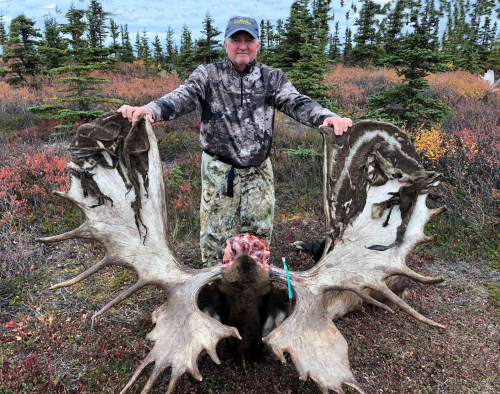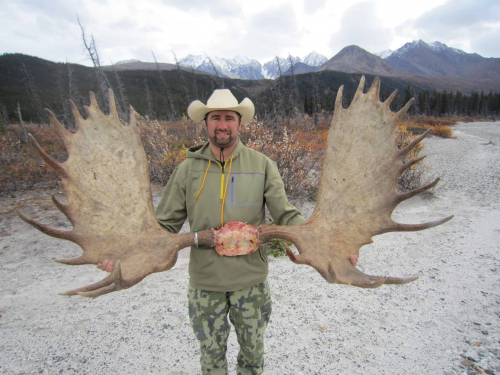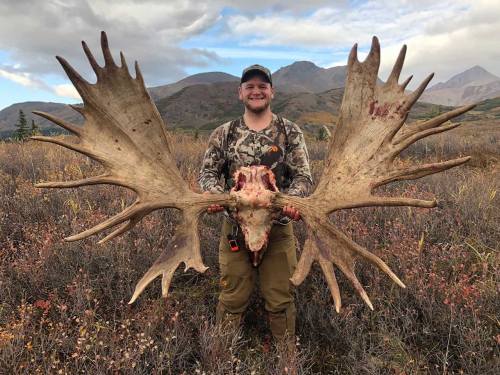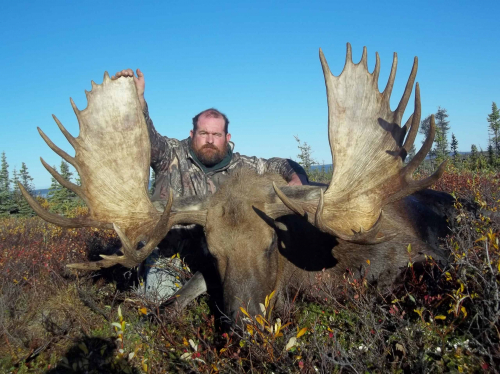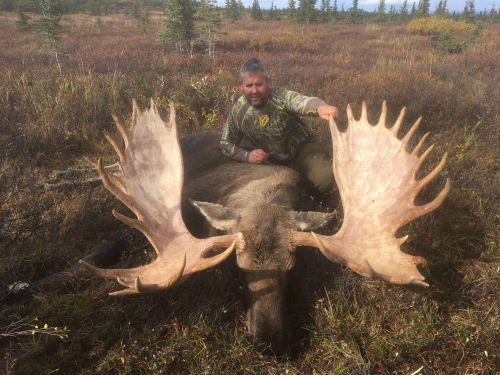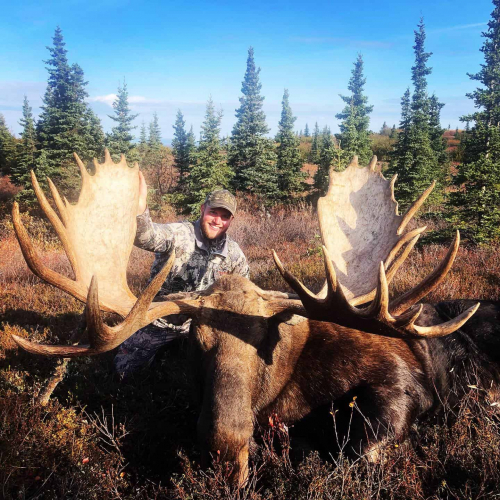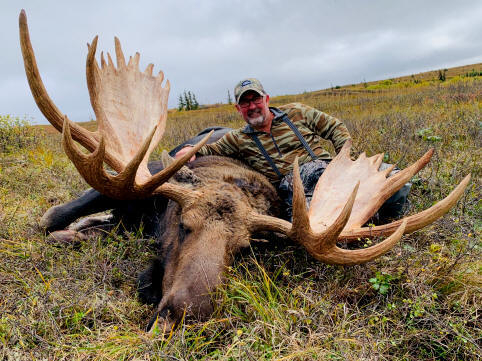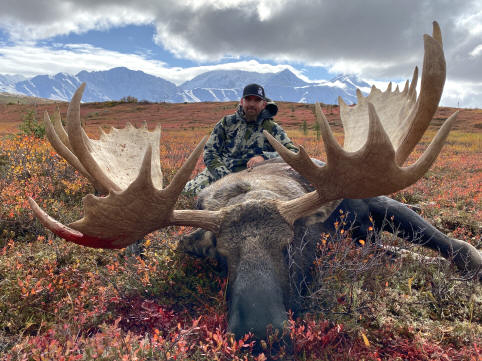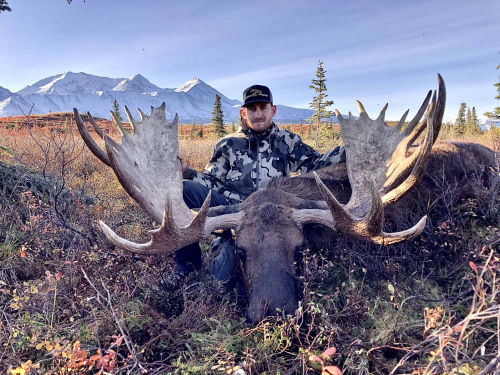 Our moose hunts takes place in the heart of prime moose country just outside Denali National Park, in Alaska's beautiful interior. This part of the Alaska Range is famous for big trophy moose. Low numbers of hunters coupled with a hard working outfitter, produces high success on quality animals. In this area, moose, caribou, grizzly bear, sheep, black bear, wolf and wolverine are available in the same season and makes this an excellent choice for multi species combination hunts.
One of our moose hunts was filmed for the Huntin Fool TV show and has been aired several times on the Sportsman Channel.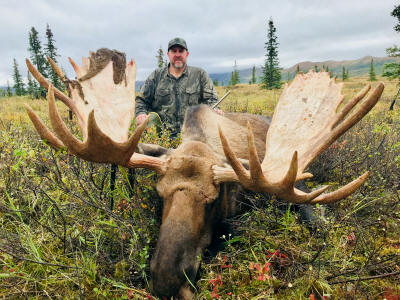 We had eleven hunters and took ten great bulls with a 60″ antler average in the 2020 season. The only hunter to not take a bull had several chances on legal moose but was looking for an above average bull, so we were 100% on opportunity. See testimonial on our testimonial page from the only hunter to not harvest a bull moose. Moose continue to build their population in our hunting area for several years in a row now.
In 2019 we were 9 for 10 with 100% hunter opportunity and a 60″ antler average. Largest bulls taken were 67″ and 69″. In 2018 we were 9 for 9 with nearly a 60″ average. Two moose were 65″ B&C. In 2017 we were 8 for 9 with a 60″ average. In 2016 we were eight for nine with a 60″ average. In 2015 we were six for eight with a 63″ average. The largest moose taken was 67″. In 2014 we had eight moose hunters and took seven moose with a 63" average antler spread. Our largest was 66". 
10-Day 1X1 Moose & Grizzly Bear
September 1st – 10th
2021 – $22,500  Sold Out
2022 – $24,675  
2023 – $24,675
9-Day 1X1 Moose & Grizzly Bear
September 11th – 20th
2021 – $23,500  Sold Out
2022 – $24,675  Sold Out
2023 – $24,675
Add Caribou (by Trophy Fee) as second or third animal on these hunts.
SEASON: September 1st – 20th
OTHER COMBINATION HUNTS AVAILABLE – Talk to Michael
14-Day 1X1 Sheep / Grizzly Combo Hunt –  (August 28 – Sept. 10)
(please discuss with Michael other species available for this hunt)
2021 – $26,750  Sold Out
2022 – $29,400  Sold Out
2023 – $29,400  Sold Out
Incidental harvest by trophy fee available:
2021: Caribou $6,750, Black Bear $3,750.
2022 & 2023: Caribou $7,500, Black Bear $4,500.
No fee or tag required for wolf.
Non-Hunter Rates:
2021: Non-Hunter Rate (per day) $450
2022 & 2023: Non-Hunter Rate (per day) $500
It is recommended for all hunters to schedule on extra day in Anchorage at the end of their hunt to facilitate arrangements with service providers for meat and trophy care.
Hunt Agreement – Terms & Conditions
Download, Print & Read
Assumption of Risks & Liability Release
Download, Print & Read
Covid-19 Assumption of Risk, Release & Waiver of Liability
Download, Print & Read
Included in Hunt Rates: 1X1 guide service, meals, main and spike camp accommodations, trophy care (In field) and transportation during hunt..
Not Included in Hunt Rates:
Gratuity: 8 – 10%. If you are pleased with your personal guides service, show your appreciation!
Transportation from Anchorage: Fly from Anchorage to McGrath with Reeve Air Alaska. Michael will advise the exact day and flights. After arrival in McGrath hunters will contact Hotel McGrath if  staying overnight. Some clients will be picked up that day by Michael and flown directly to the lodge, Michael will advise.
Charter out to hunting lodge: Fly with Litzen Guide Service for $1,200 per flight, cost shared between all guests flying to and from the lodge.
License & Tags – Unlimited tags are available online or can be purchased upon arrival in Anchorage.
Alaska Big Game Tag & License Prices:
license @ $160,  brown/grizzly bear @ $1000,  moose @ $800,  sheep @ $850, caribou @ $650,  black bear @ $450,  wolverine @ $350, wolf @ $60,  tags may be used on any animal of equal or lesser value. These fees subject to change.
Harvest Tickets should be acquired at the same time as your tags. (Moose, Caribou, Sheep)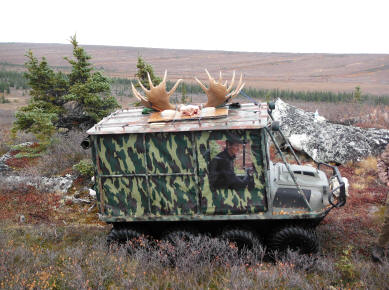 Argo transporting Bull Moose.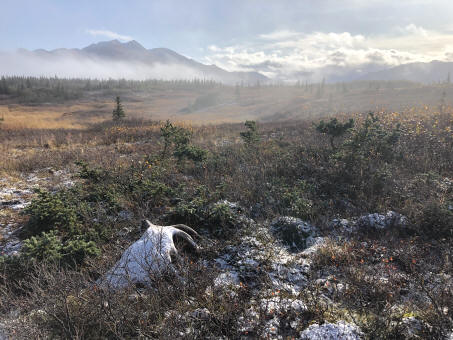 Moose shed on the tundra.