The Last Great Race – Experience our guided Iditarod Flightseeing Adventure. Follow your favorite dog team from check point to check point by air and experience authentic Alaska village culture while watching mushers care for their teams. Excellent accommodations, including pilot's own Denali View Log Cabin. Fully Customized – we go where you want to go … right where the action is!
Due to Covid concerns the 2021 Iditarod is uncertain.
Check with Michael for current information.
$9,900 per person
Phone: 907-776-5868           Email: michael@litzenguideservice.com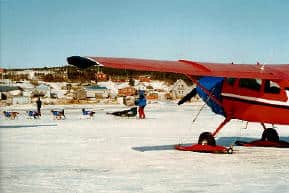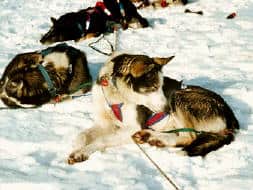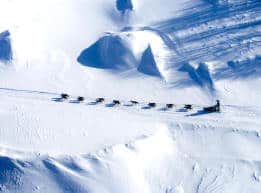 "It's unlike any other event in the world. A race over 1,150 miles of the most extreme and beautiful terrain known to man: across mountain ranges, frozen rivers, dense forests, desolate tundra and windswept coastline."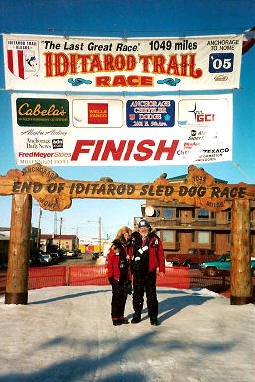 IDITAROD TRIP OUTLINE
Sunday:  The clients will meet Michael Litzen on Lake Hood in front of the Millennium Hotel Iditarod race head quarters during race. We will then fly to Willow and observe the restart. Then we will fly to Michael's beautiful Denali view log cabin, get a fire started and move in for 2 nights. From the cabin we will visit check points Skwentna, Finger Lake, Rainy Pass and Nikolia.
We then move into the interior to McGrath for three nights at Hotel McGrath B&B with private rooms and very nice accommodations. During these three days we will visit check points Takotna, Iditarod, Shageluk, Anvik, Grayling and Eagle Island (southern route, odd numbered years) or Takotna, Cripple and Ruby (northern route, even-numbered years).
On the even numbered years we will stay 2 nights in Galena and visit check points Ruby, Nulato and Kaltag.
We then move out to the Norton Sound coastal village of Unalakleet for two nights. The day before an expected finish in Nome we will move up the coast and visit as many check points as time and weather permits on our way to Nome.
In Nome, we will stay at a very nice Alaskan style B&B right on the Bering Sea coast with a close view of the Iditarod trail. If weather permits, the next day we will fly back to White Mountain for a short visit and see the leaders coming off their mandatory eight hour lay over and the beginning of their sprint to the last check point Safety, and the finish in Nome. Our Nome B&B is a short ways to the burled arch and finish line, so we can walk down to the finish when the teams are near. Clients will fly from Nome back to Anchorage on Alaska Airlines at the conclusion of the trip.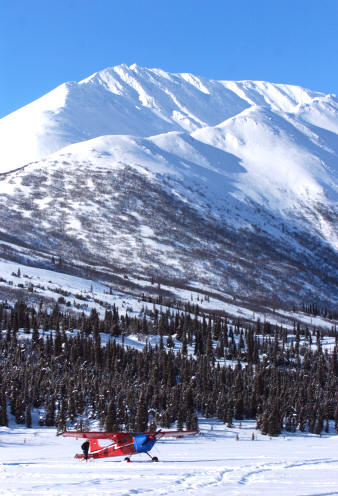 DATES:
The Iditarod always begins on the first Saturday in March with a ceremonial start in down town Anchorage. The restart will be the next day, Sunday in Willow or Wasilla.
INCLUDED:
2×1 guide service, all flying transportation during trip and all lodging accommodations.
NOT INCLUDED:
Meals, transportation from Nome to Anchorage.
TRANSPORTATION:
Fly Alaska Airlines back to Anchorage from Nome
Consult Michael for a gear list of items to bring and to leave behind
REFERENCES:
Wayne and Cec Garrett from Medford, OR. Cell: (541) 292-6618 Home: (541) 857-6848
Bob & Connie Hendershott, Washington, (425-775-0906
Dan & Sherry Palmer Iowa, (563) 370-6777
Tom & Doreen Barrows, Virginia, (757) 539-5890
Alaska Radio Mission, Nome (907) 443-2777