I hunted with Mike Litzen and his guide staff during the 2017 Coastal Brown Bear hunt. It was the 10-day hunt staying on the 67 foot Spirit. The accommodations on the boat were very comfortable and the food and crew were excellent. All of Mike's guides were great guys and I enjoyed all of them. I actually hunted with Mike himself and enjoyed him as well. He is a very experienced PH and I learned a lot from hunting with him. I did get my bear and was very happy to do so as I had not hunted dangerous game previously. All of the guides were very professional and safety conscious during the entire hunt. I would very much recommend to hunters that Litzen Guide Service is a high quality experience with a group of experienced professionals'.   
George Milligan, Des Moines, Iowa
(515) 229-0004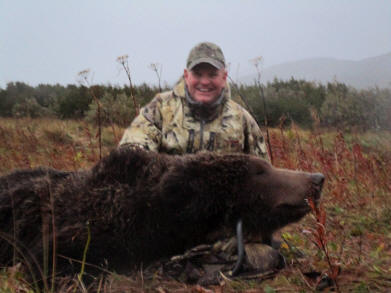 It was a once in a life-time hunt and amazing adventure.  As a repeat client (coastal Brown Bear in 2013), Litzen Guide Service once again under promised and over delivered….I cannot thank Mike and his Team enough for putting me in place to take a 41 ½ X 40 9/16 trophy Dall sheep!   After watching this monster sheep for 7 days and not being able to get close enough for a shot due to wind, weather,  and location, my guide (Brad Patterson) and packer (Cole) got me in position to take a successful 200 yard shot. 
Mike maintains his pristine area by limiting hunting pressure on the animals and thus affords his clients the opportunity to take trophy-caliber sheep.   He and his hard-working guides know the area and are able to think ahead of the animals to place the hunter in a prime location to take harvest the animal. After 30+ years in the business there are no signs of Mike or his team slowing down anytime soon.  
While I have hunted with several other outfits in Alaska and throughout the world, they all pale in comparison to how Mike treats his clients.  Whatever the question, I have found that he is always honest and upfront with what the client can expect to ensure a most memorable experience.  If you are thinking about an Alaskan hunting adventure, Mike is the outfitter you want!
I am already planning my next trip with Mike and his outstanding team!
William Alex
Papillion, NE
402-884-0041 (H)       360-551-0653 (C)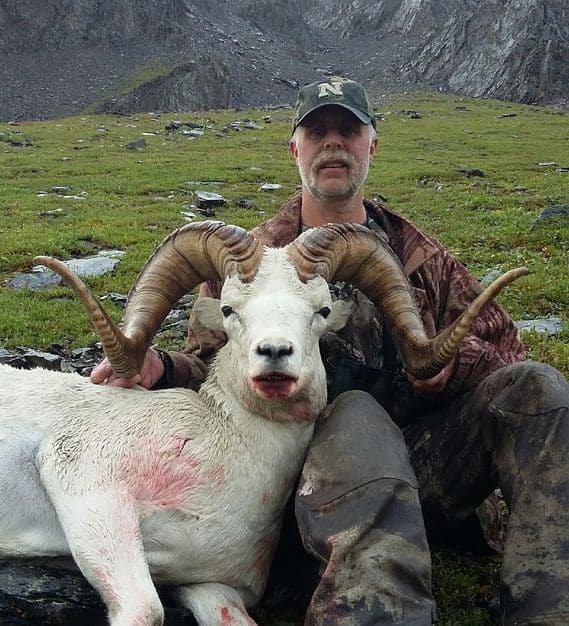 I received Litzen Guide Service's name from a referral from a fishing guide while silver fishing in Alaska in 2015.  He informed me that Mike ran a first class operation and boy, was he right.
I could not book my hunt until 2017 for Mike was totally booked until then.  In speaking with Mike on the phone he asked what I expected from my hunt.  I informed Mike I was looking for the full experience of an active Alaskan Hunt and if I would happen to shoot a Moose or Caribou it would just be a bonus.  Mike made it a point to inform me the better shape I'm in for the hunt the better experience I would have.  I'm glad I took his advice and prepared for this hunt. 
Once again Mike did not fail.  My guide, Shay, was exceptional and well experienced in the field.   With Shay's help, I was able to stalk and shoot a beautiful moose as well as a caribou.   Both stalks were not easy, but it was definitely something I was looking for. 
I thank Mike and Shay for a trip of a lifetime which resulted in a successful hunt, as well as an experience that I will never forget!
Dan Guerin        
Minot, ME
Cell 207 415 3940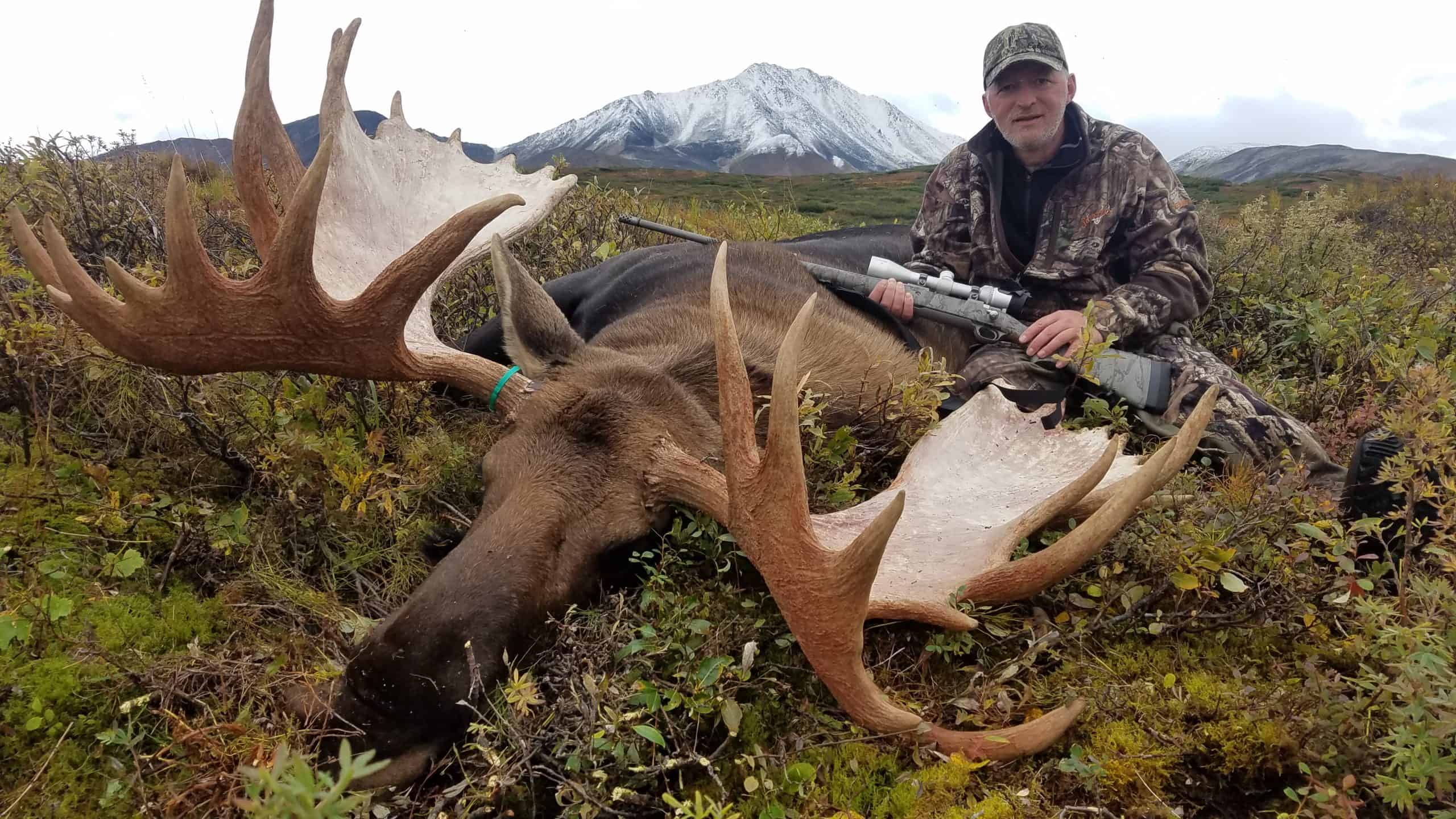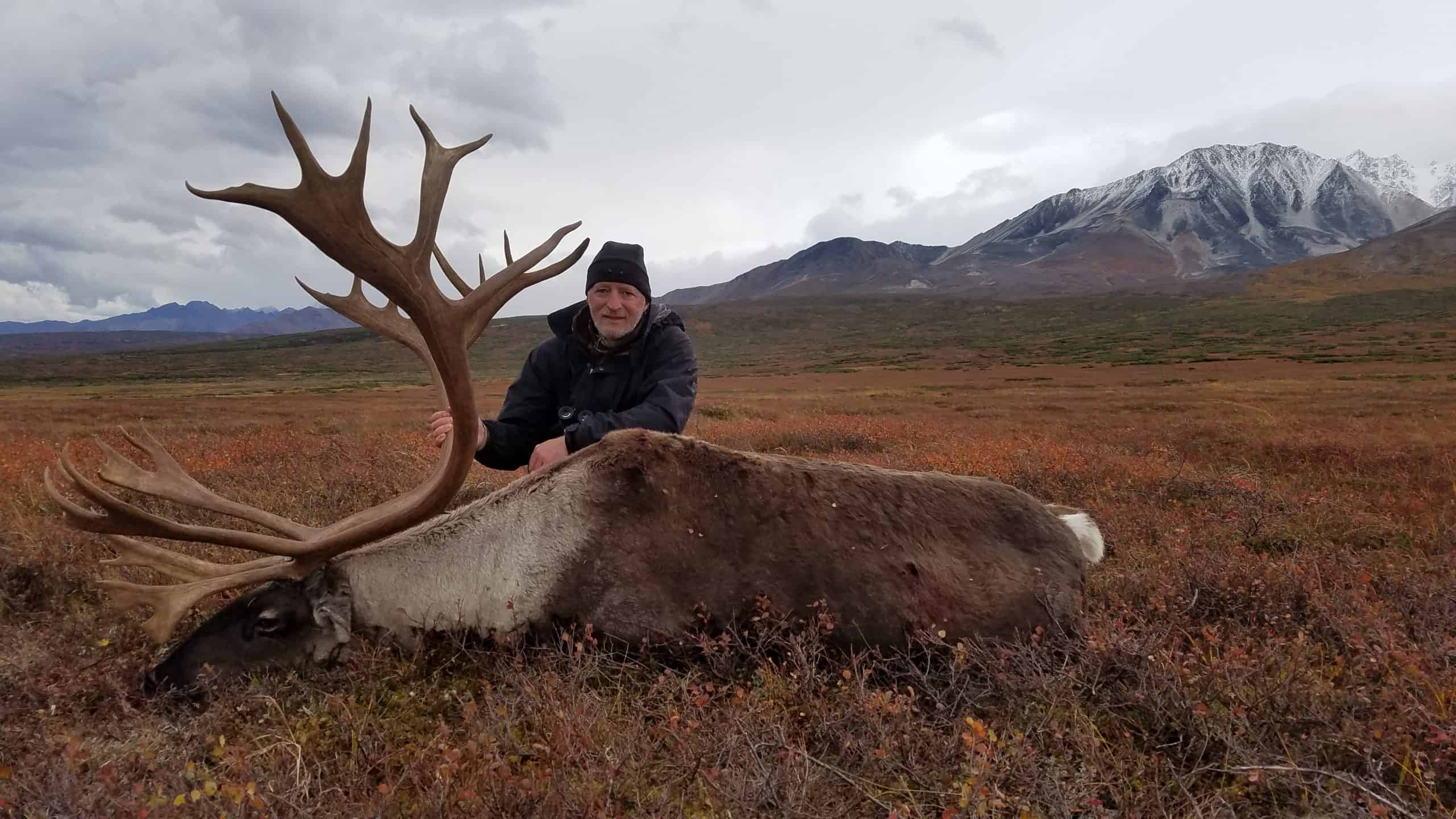 Mike Litzen & Crew:                     
I'd like to thank you for another great hunt, this was my 6th time hunting with you and like all the other hunts everything was perfect. You and your crew were well prepared and had everything ready to go.  After 6 hunts with you, and Jason Reinalda as my guide, we have become friends and whether I get an animal or not it's always fun.  This hunt was for the last animal I needed from your central Alaska camp, as I've killed Dall sheep, caribou and grizzly with you and Jason. 
I was after a trophy moose, like one over 60" and on day 6 of the hunt Jason spotted this monster 68" bull with perfect points.  The next day as we were taking a lunch break in camp a pack of 6 wolves passed by and I was fortunate to get 2 wolves.  Talk about a dream come true.   Well thanks again Mike for everything,  and I'll see you, Jason and crew in Sand Point May 22, 2018 for another try at a mature brown bear.
Mike Frings
Tulare, CA
559 901-6427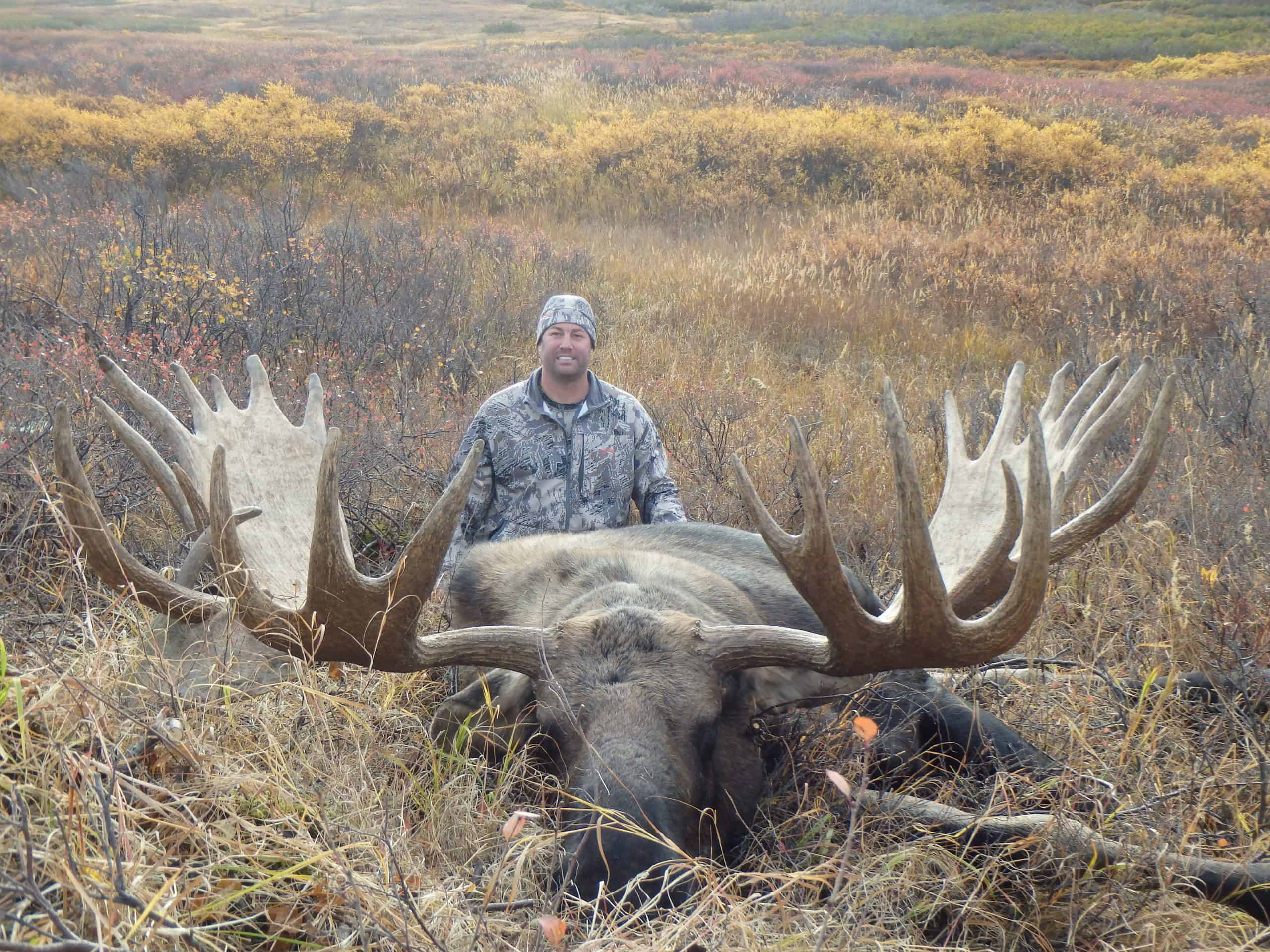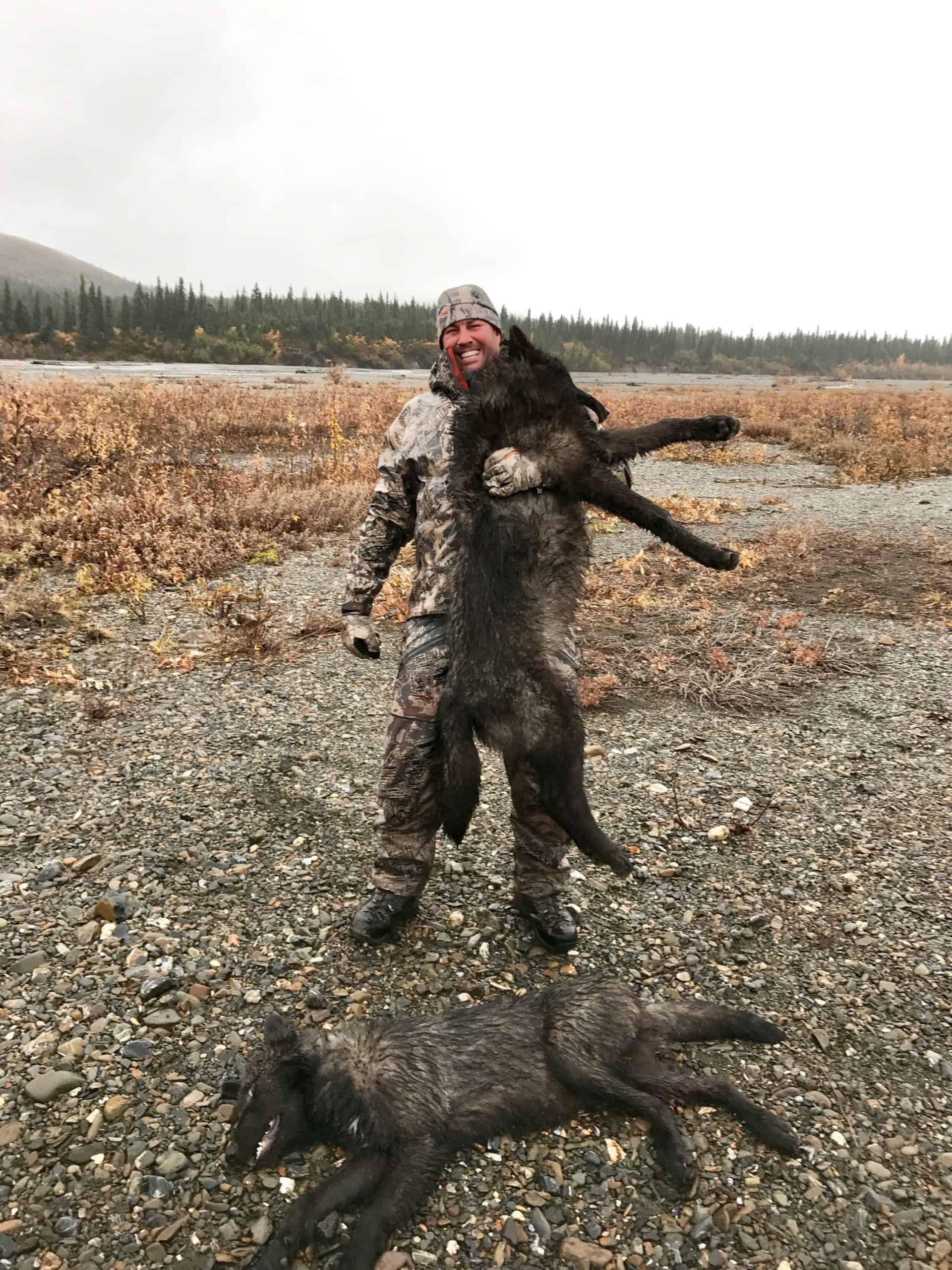 Thanks Mike for making dreams come true.
From the first time I spoke with Mike at Litzen Guide service, I could tell it was top notch and that feeling never left me. Mike was very open and up front on what to expect and what was required on my end. I, like most, had lots of questions and Mike was quick to respond back to them. Upon arriving at base camp and seeing his operation I knew I was in good hands. The hunt went pretty much as planned -logistics were great, quality of rams was great, and the reward was great. There were no surprises or unexpected details. Be prepared to work hard and you'll be rewarded. I would recommend Mike Litzen to anybody.
Aaron Bronson
Select Engineering Services
aaron.bronson@sesut.com
801-528-5188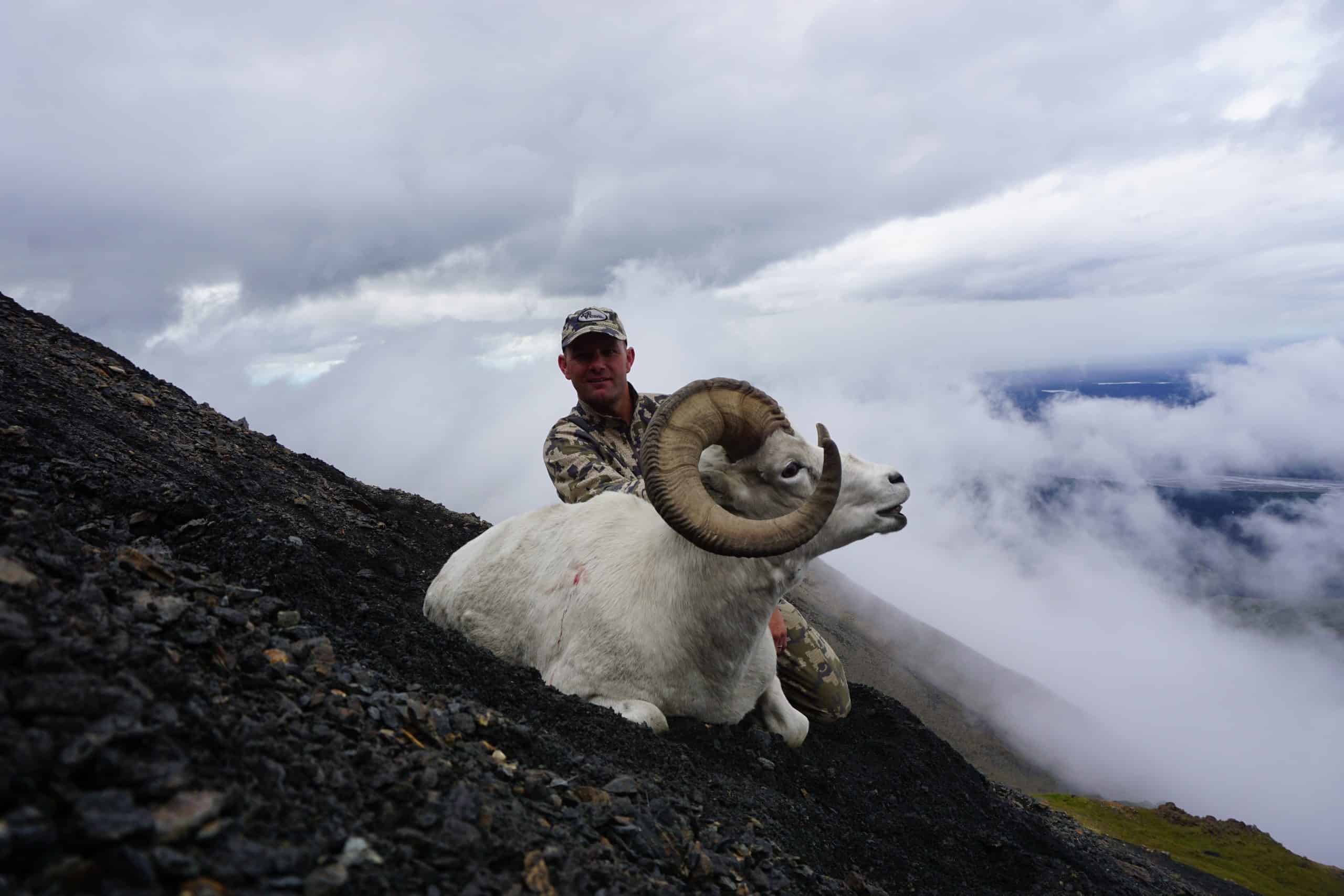 Hi Mike,
Thanks again for a truly memorable hunt. It was a pleasure to finally meet you after years of planning.
To finally harvest a Moose on the 8th day of the hunt was an intensely emotional experience. Brad, (your excellent guide ) kept me in the game and did an excellent job throughout the hunt. 
Shooting my trophy caribou on the last day of the hunt capped off an incredible 10 days. 
Your dedication and attention to detail truly made this a hunt of lifetime.
I hope to be back soon to hunt with you.
Thanks Again
Barry Gleiberman
Los Angeles, CA 90039
Ph : (323) 660-7511
Fax: (323) 661-7504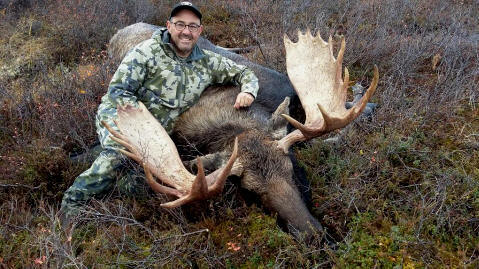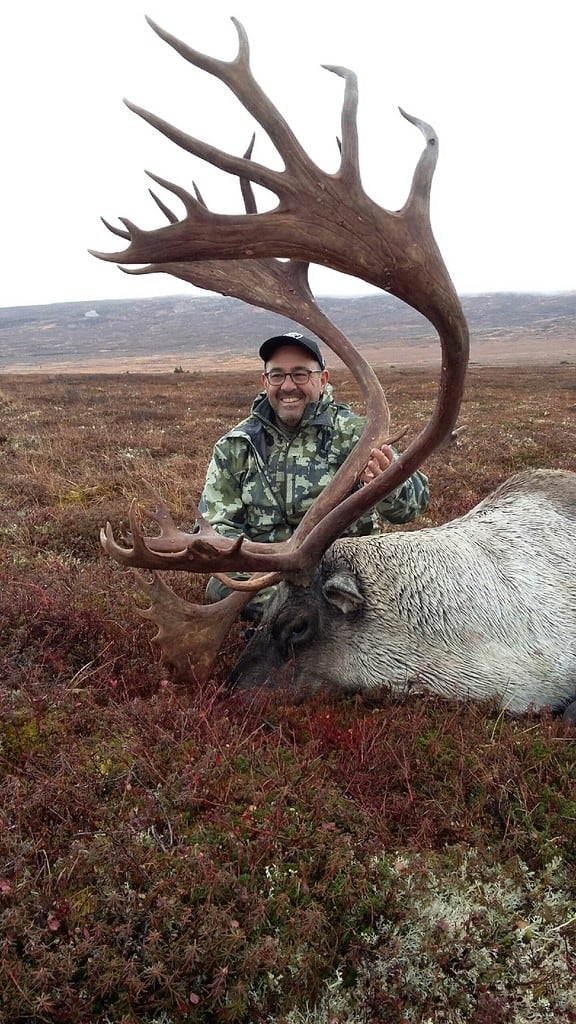 This was my third hunt with Litzen Guide Service (I did a Moose and a Coastal Brown bear hunt before).    This year I was able to get a real nice bull on the first morning.   I also saw a sow Grizzly with her two cubs a few days later.  Originally my son was going to be in another camp hunting Moose & Grizzly.    But since I got my moose so early, he ended up being in the same camp as me.   He ended up getting a Moose and a Grizzly bear.   
During my 2010 Moose hunt, I never had to wear my rain gear once.    But this year was different, we had several days of rain and high winds.   I want to thank my guide Cole and I also want to thank George Taylor (my previous Moose & Brown bear guide) for cooking and helping in camp.  I would highly recommend Litzen Guide Service for anyone wanting to hunt in Alaska.
Klaus Leidenfrost     Missouri 
(573) 465-0040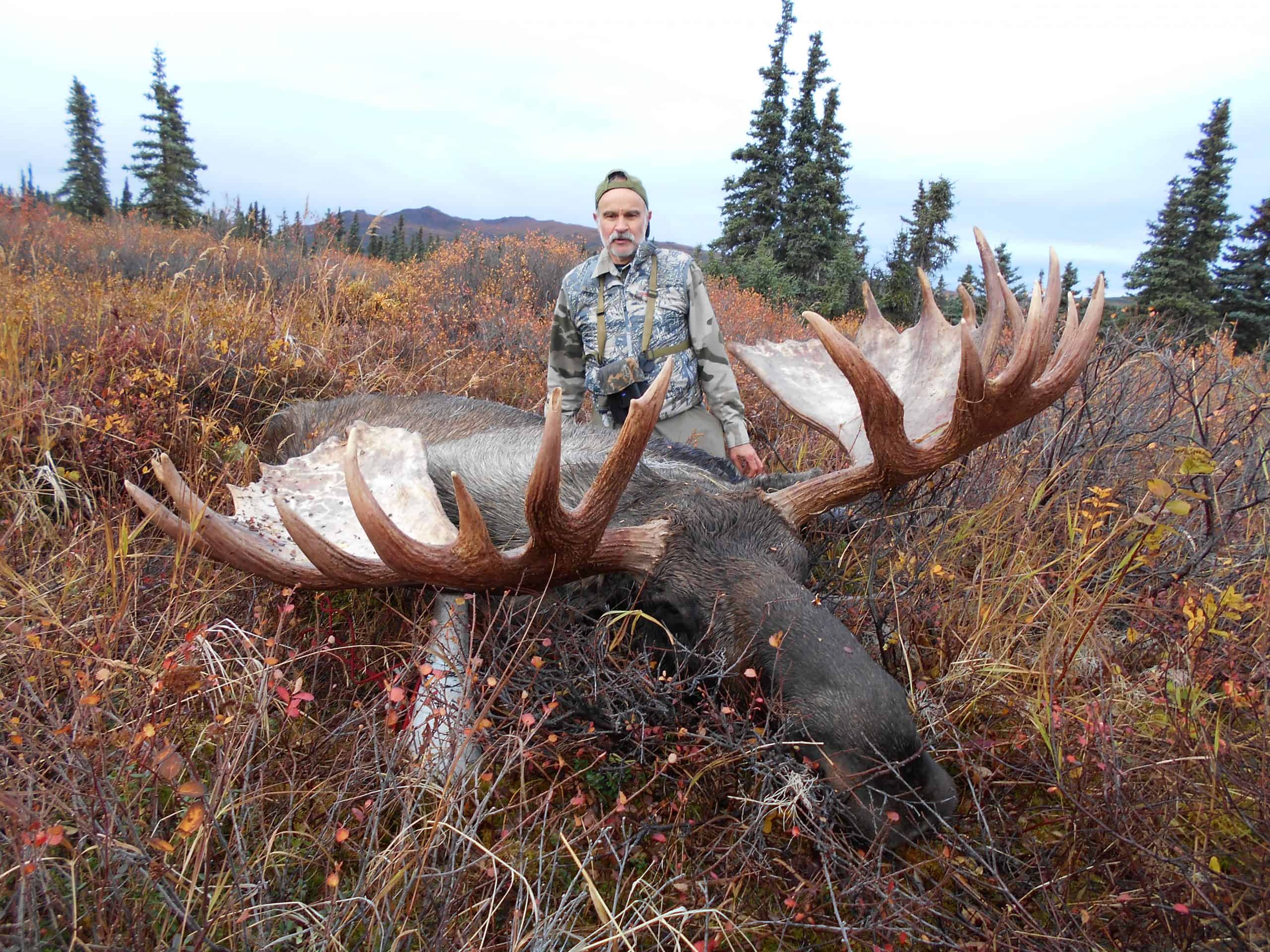 My 2017 sheep hunt with Litzen Guide Service was one of the most challenging and fulfilling hunts of my life.  Mike runs one of the most professional outfits I've ever hunted with and I cannot recommend him highly enough.  If you are going to make the commitment to an Alaskan Dall ram, you should trust Mike's experience and results.  I was fortunate to kill a very mature 37" double broken ram on opening morning.  I simply could not have asked for a better outfitter and guide and will remember this hunt for the rest of my life.  Thank you Mike and Ron!
Robert F. Glass
Glass & Robson, LLC
Glenridge Highlands One
5555 Glenridge Connector
Suite 550
Atlanta, GA 30342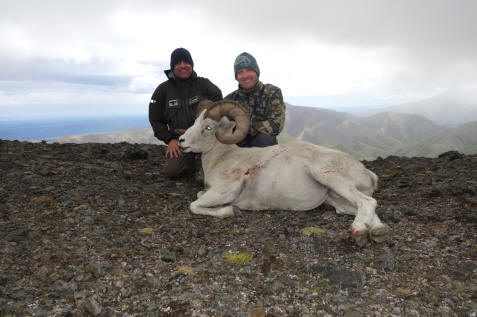 Litzen Guide Service is the most professional team I've ever hunted with. Mike has great camps, great food and great experienced guides that work hard to get you in a great position with always keeping your safety a priority. I have recommended Mike Litzen to 5 of my buddies and I'm sure they will all try to book.
Thanks for a great hunting experience.
Best regards,
Mark Bell
Lincoln Nebraska
402-499-5978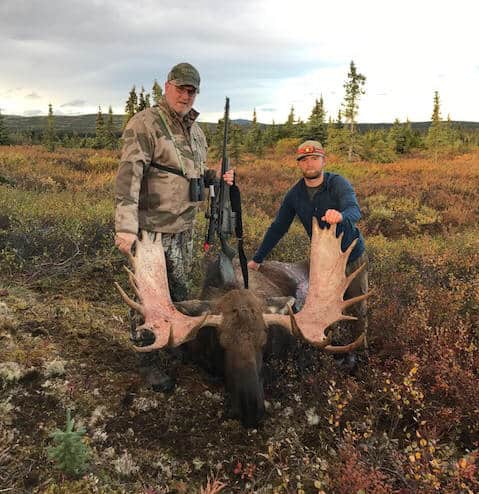 Mike,
I just wanted to thank you and your team for an outstanding experience on my recent Dall Sheep Hunt.  This is my third time hunting with you and it keeps getting better. It's my humble opinion that hunting in Alaska is the epitome of hunting in North America; it is what is left of what is pure and real.  These hunts for me have always challenged me physically and mentally and make me appreciate the little things in life.  You can learn a lot of about yourself and the power of the mind. You can find yourself in some tough situations where you must carry your wit and not let pain or fear overcome you. It makes the experience that much more rewarding even when you are not successful and to me that is what it's all about.  Thank you again for providing the experience and the friendship.  I hope to see you in the near future for a moose hunt.  A special thanks to Tony Marchini -you have a true passion for sheep hunting and I want to thank you for sharing that with me. I appreciate your hard work and positive attitude.  Thanks again Litzen Guide Service for an outstanding hunting experience and all of your hard work.
Best Regards,   Frank Spencer III
Cell  915.269.0767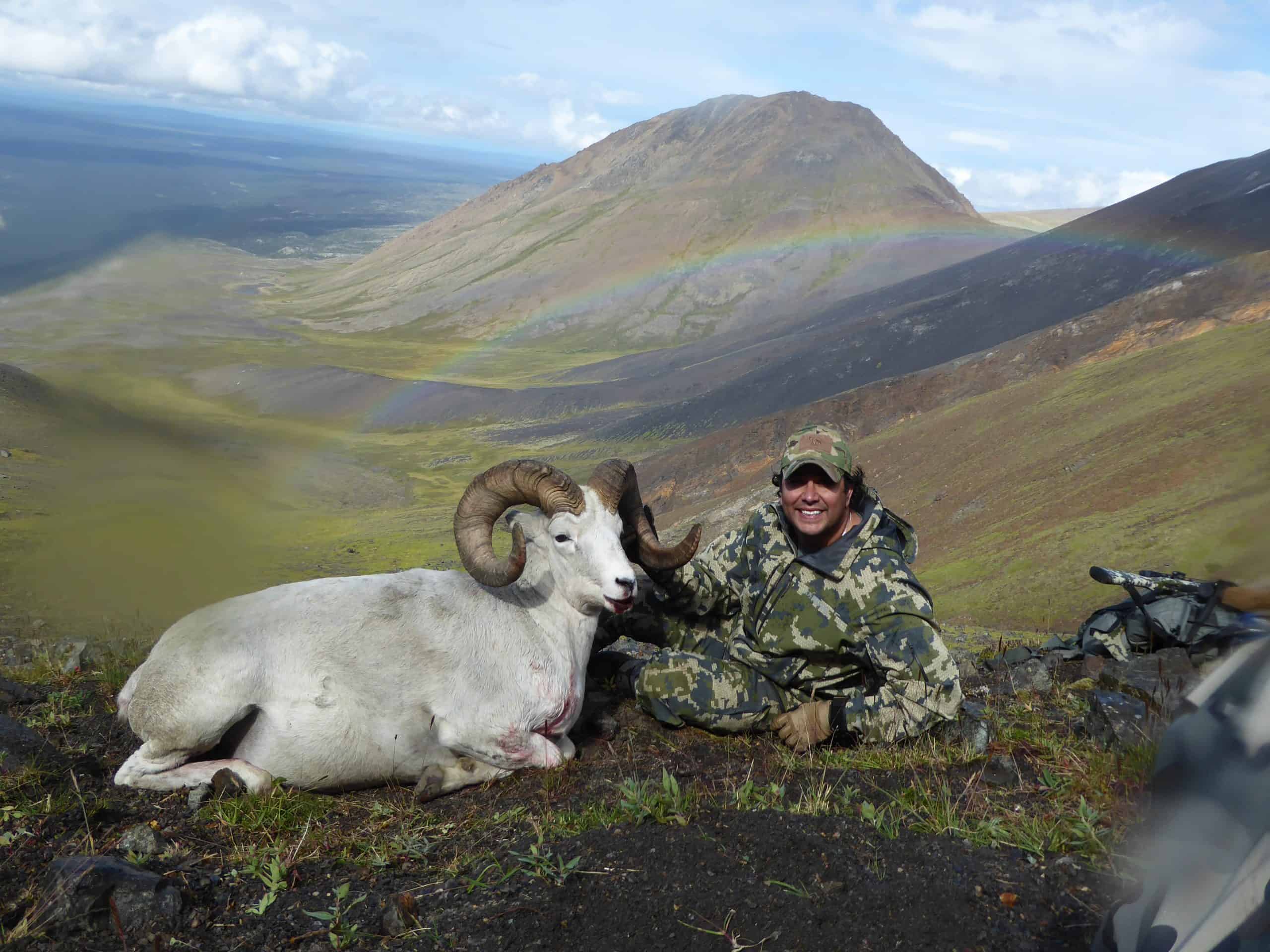 I booked a 2017 Moose Grizzly Hunt with Mike,  and this was going to be my first Alaskan adventure. Mike had helped arrange all the details etc. I arrived in base camp and departed to the hunting camp the same day. Mike is running a first class operation and every detail is taken care of and thought out well in advance. John Salgat was my guide for this experience, and what a great guy! We harvested the 63" bull on the 7th day. What an experience! In addition we had an opportunity on a wolf but I kind of screwed that up.  LOL.
I had such a great experience that I booked a Sheep combo hunt with Mike and Crew for 2018. I can't wait to get back. 
Thanks, Shayne Babich | CEO | Logan | Member of DGI
1000 Blasingame Road | PO Box 1408 | Hempstead Texas 77445 | United States of America
Tel: +1 713-849-2979 | Mob: +1 713-805-8790 | www.loganindustries.net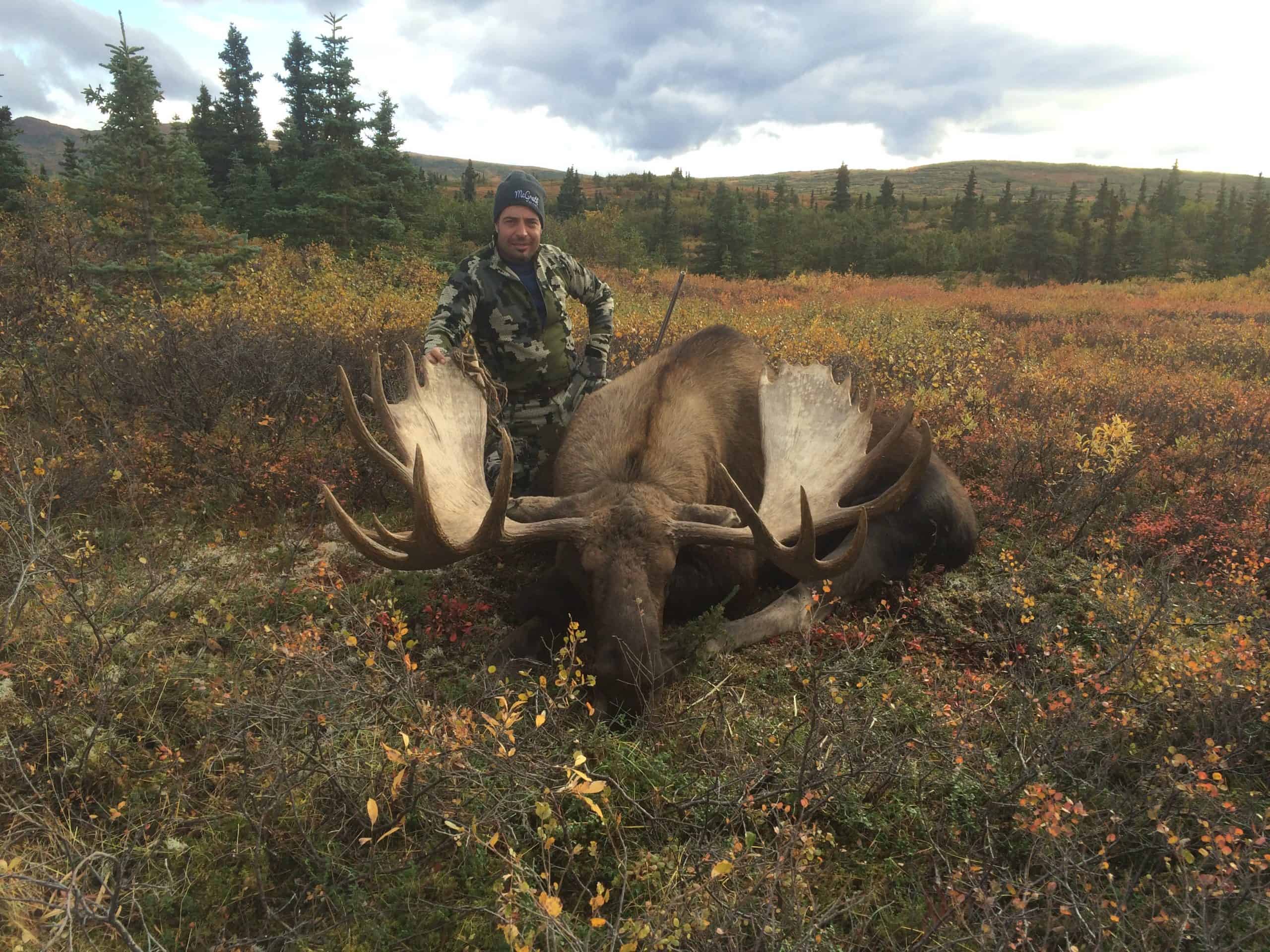 Mike, Please find attached picture of my trophy caribou I was blessed to harvest while on my 4th trip to Alaska with Litzen Guide Service. Every year I think it cannot get any better, but for 4 years in a row it has. To get to spend 10 days in the wilderness of Alaska in the best hunting in Alaska with guys like Joel Doner (my guide) is something that will stay with me forever. Feels like it was just yesterday that I booked my first hunt with you for Brown Bear. With Joel being my guide I was able to harvest a 9' bear. Trip number two the next year I got a full curl Dall Sheep. Trip number three a 65" Yukon Moose and then on trip number 4, I shot a trophy barren ground Caribou. Never in my wildest dreams did I expect that, 4 for 4 is definitely not bad. Mike, All your guides are friends and your main camp cook has even been to my farm in south Arkansas to hunt and will be coming back soon.  I cannot thank you enough for the job you and your staff does to make sure all your hunters have the very best chance for success. You guys are the best in Alaska. I will be bringing my son back next to let him experience the beauty of Alaska with Mike Litzen Outfitters. Please tell all the guys hello. My wife and I are coming back this summer to spend two weeks sight seeing and fishing and will make it a point to come visit. Maybe you can take her up in the Super Cub. Hope you are having great success with brown bear hunting. Look forward to seeing some pictures. Use me as a reference anytime. See you this summer!
Joe R. Wilson, CAI      Wilson Real Estate Auctioneers, Inc.
http://www.wilsonauctioneers.com
929 Airport Road
Hot Springs, AR 71913
1-877-243-2289 Toll Free
1-501-624-1825 Office
1-501-624-3473 Fax
1-501-622-8140 Cell
Click Here For Auction Alerts or Here to View Our Live Online Auctions!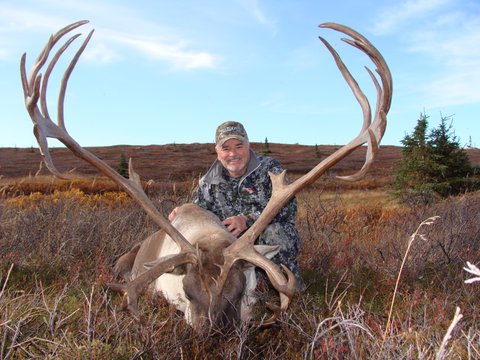 Max Leidenfrost
Moose
Grizzly Bear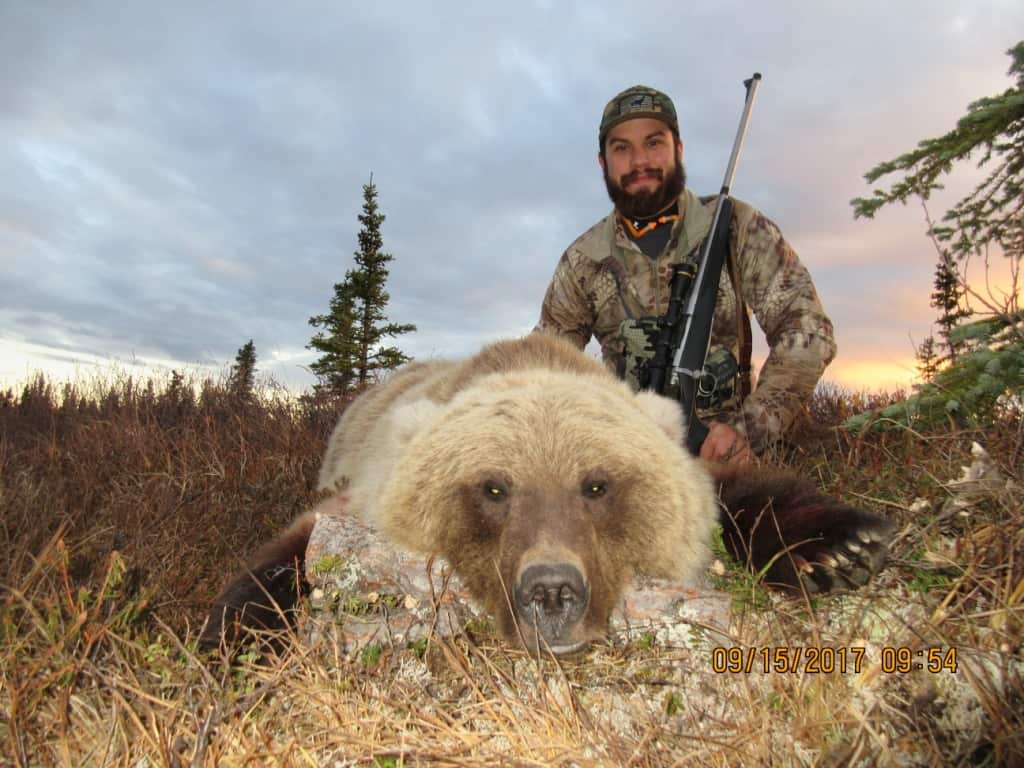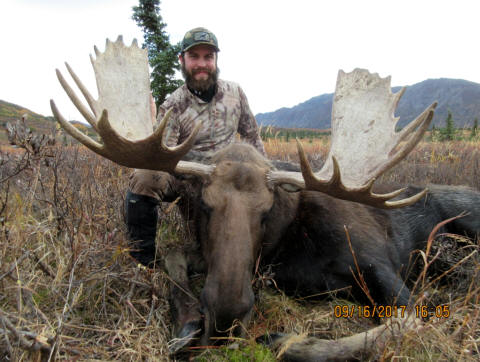 In October of 2017 I went on a coastal brown bear with Litzen Guide Service. My hunt was done from a boat. Accommodations were great as well as the food. All personal were first rate. They were, to a man, friendly, knowledgeable, and extremely hard working.  Owing to factors out of our control (mainly huge amounts of bear food in the form of fish), I didn't take a bear. Seems the large boars were fat and lazy and hard to find. I did see lots of bears though, sometimes 12- 15 a day. I would definitely recommend Litzen Guide Service. In fact, I am going back for the spring hunt.
Bob Cockrill
Casa Grande, AZ
520-251-1136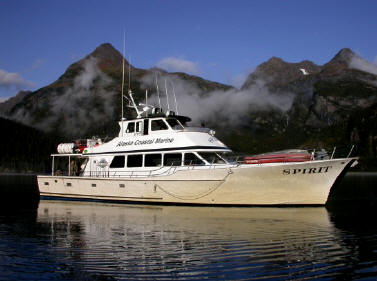 Thank you again for a once-in-a-lifetime hunt! Mike Litzen Guide Service and his crew were everything I expected and more.
This was a combo moose/caribou hunt. On my 3rd day, I shot a fabulous caribou. Jason, my guide, and I saw moose 7 out of the 10 days we hunted, but they weren't close enough or of legal size to harvest. On the 6th day, a nice black bear showed up close to camp. As we couldn't close the deal on a moose, on the last afternoon, I harvested that almost 7 foot black bear!
I can no longer call this a once-in-a-lifetime experience. Mike and Jason – I am coming back!
George Murdock
Bassett, Nebraska
402-760-0468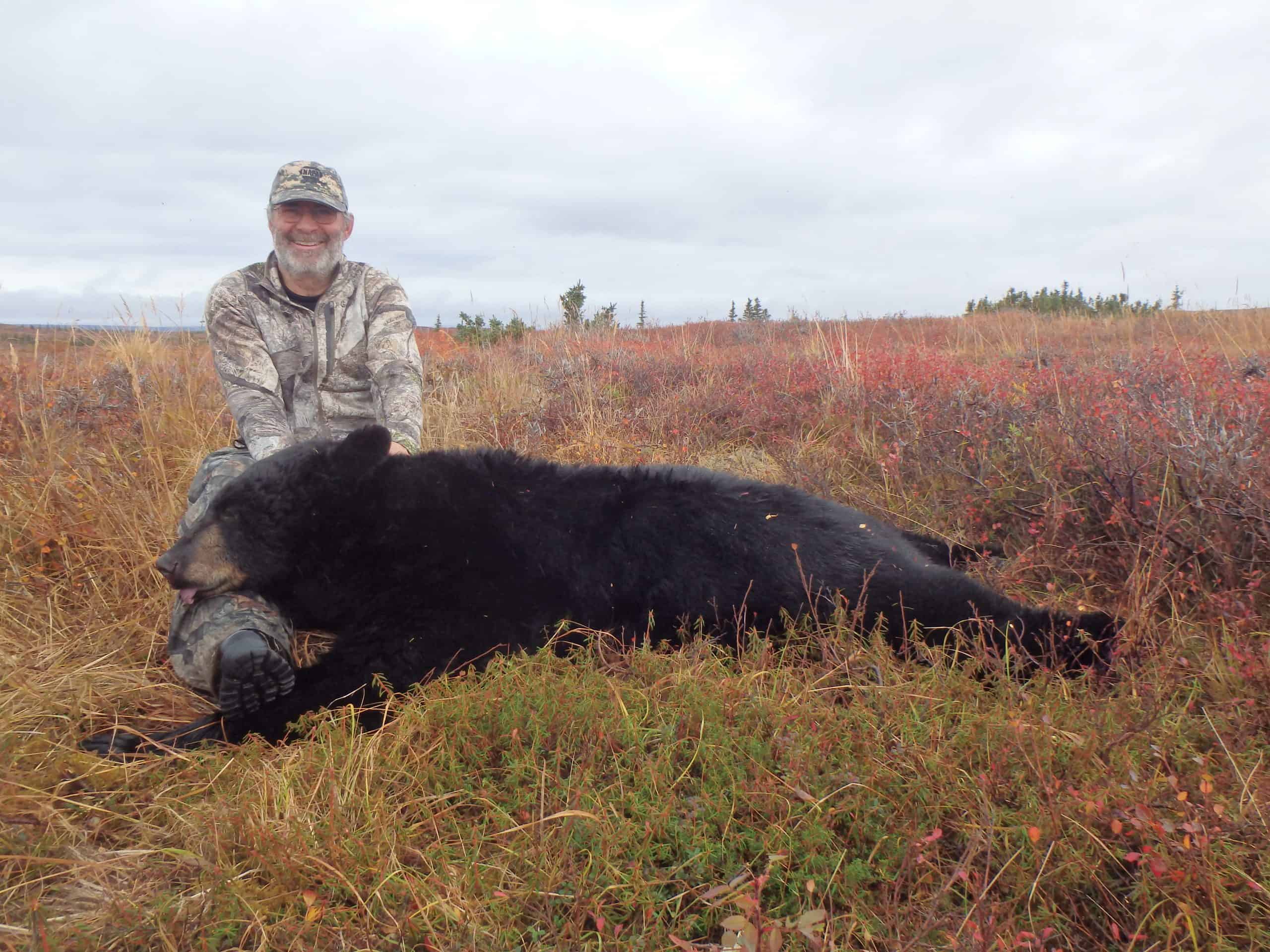 I was fortunate enough to be a replacement hunter on the Fall 2017 Brown Bear Boat based hunt after a friend was forced to cancel.  Mike and his guides were very professional, dedicated and concerned with everyone's well being.  The ship's Captain's were very professional, always ready to help and far exceeded any expectations I had before the trip.  I had the pleasure of hunting with his guide Don and could not have asked for a better guide to share the trip and experience with.  I was able to take a nice boar in the final minutes of light on the last evening of hunting, it truly was the perfect way to end such a great trip.  Even without the bear this was one of the most amazing adventures I have been on and Mike and his guys really made the trip that much more enjoyable.  Since returning I have booked a Dall Sheep hunt with Mike and can't wait for my next Alaskan adventure with Mike and his guides.  I would highly recommend Litzen Guide Service for anyone wanting a Brown Bear Hunt or any other Alaskan adventure.
Andy Gibson
970-988-2237
Breckenridge, CO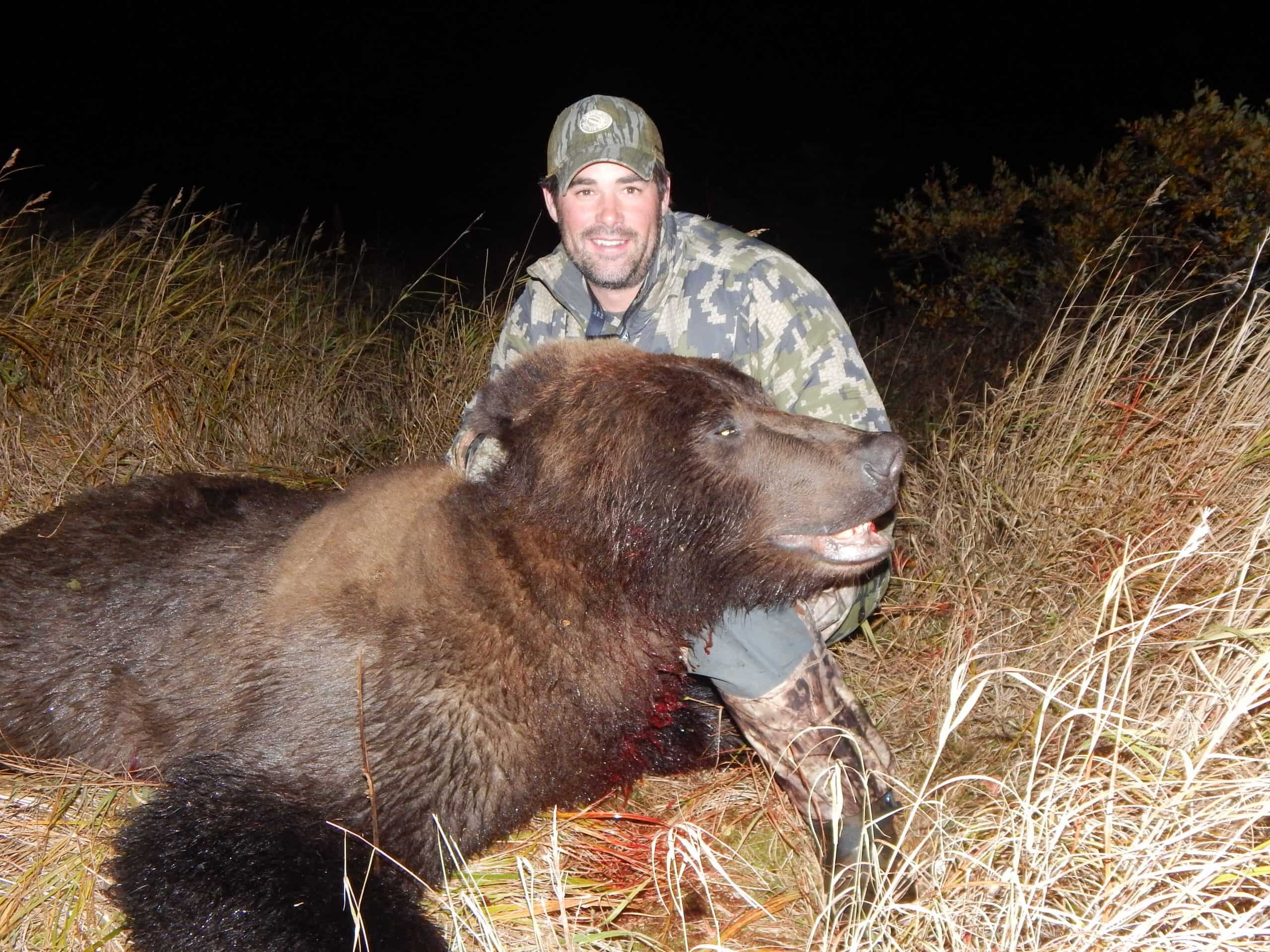 Thanks Mike and crew for an amazing hunt.
This was my first sheep hunt and I was a little nervous about choosing who to hunt with.
I had a bad experience in the past with an outfitter and didn't want to do that again. From the time I first talked to Mike he was very professional and straight forward, never over selling the hunt. Mike is extremely organized and very business oriented and is all about customer service, his attention to detail shows in his airplanes and in his camp. 
Mikes guides that I met were all top notch; you couldn't find a better group of guys. The hunt was everything Mike said it was going to be and then some. I can't say enough great things about Mike and the crew and I will recommend every one I come in contact with looking for a Dall sheep to hunt with him. Thanks again for everything Mike this is truly the best guided hunt I have ever been on.
Sal Piazza
208 818-5788
Spiazza@parkertoyota.com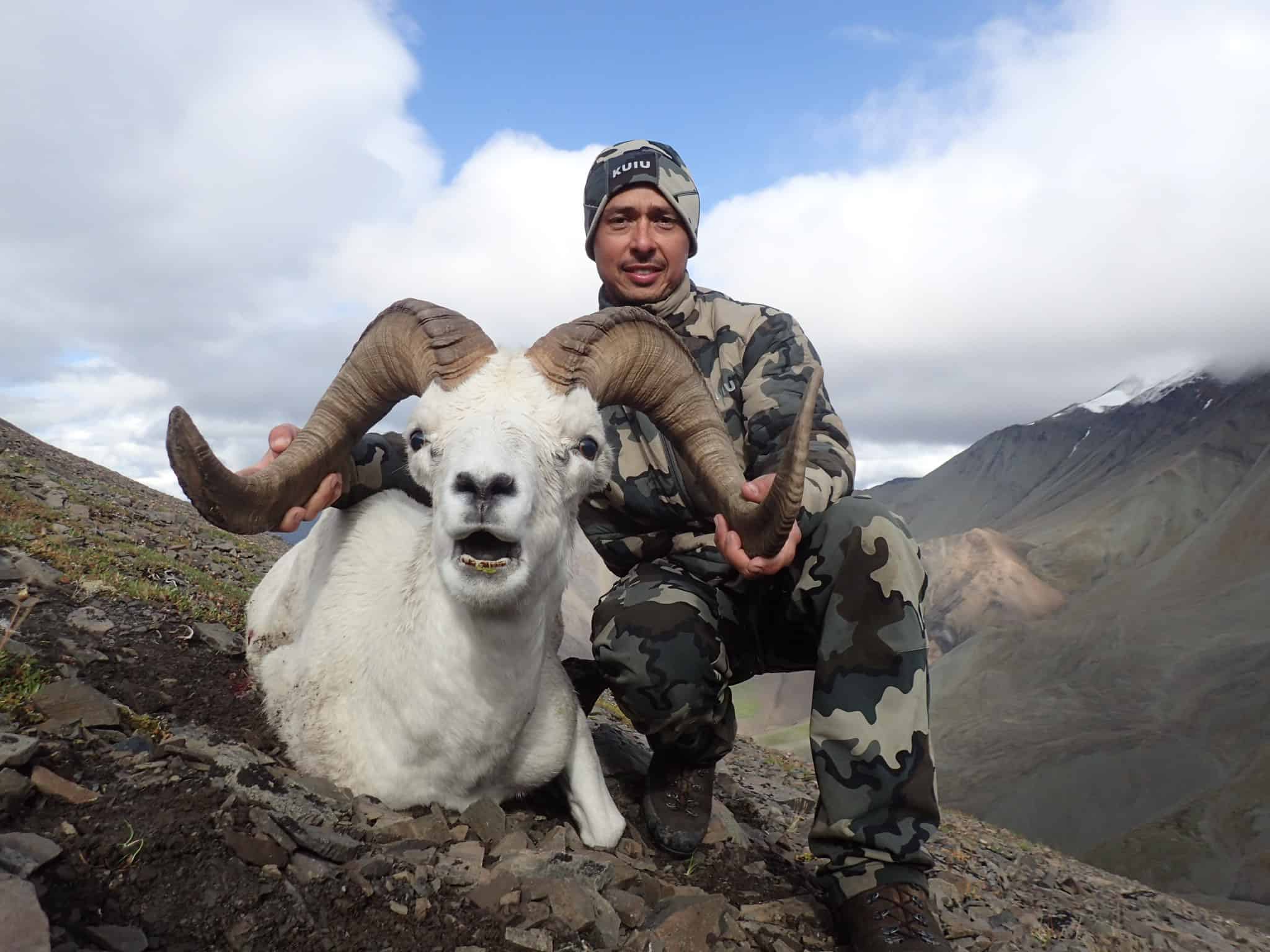 Mike and all Staff,
I personally want to thank you and Brad for guiding my 2017 Dall sheep hunt.  It was an outstanding and unforgettable experience and hopefully will have the chance to do it again one day.  The services and information you provided from the first call to the flight out of base camp heading home were very professional and informative which made the trip stress free.  On the mountain Mr. Brad the sub guide was just what I expected based on our conversations.  He has a wealth of knowledge about the sheep and the habitat they live in which gives the hunter the greatest chance for opportunity and success.  We ended up killing a ram that was "EXACTLY" what I was after and Brad was willing to go much further in difficult terrain to get the job done even though there were legal rams a lot closer and in easier terrain.  Lastly the fresh cooked Dall sheep roast in base camp was exceptionally wonderful as with each and every bite since then.  I am looking forward to returning in 2020 with my son to go after the Yukon moose and share the Alaska experience with him.
Cheers to you and all of your staff!
Robert Van
Reno, NV
775-825-5248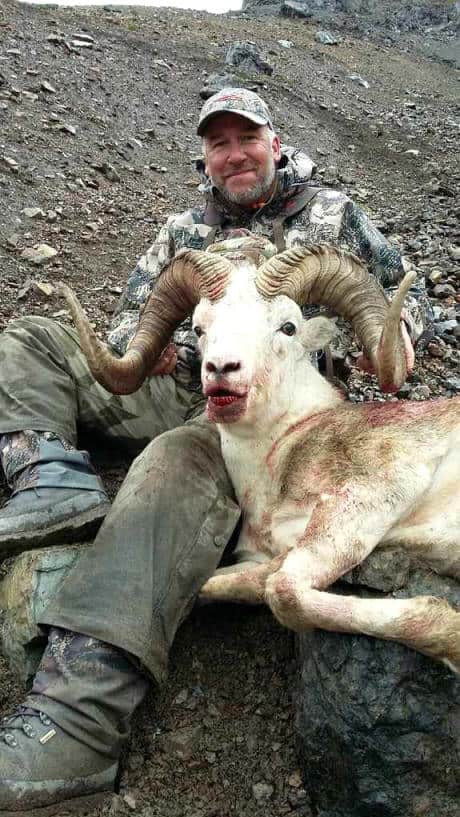 Mike,
          Not very many hunts will exceed your dreams, my moose hunt with you and Jon Salgat as my guide (and good friend), was beyond anything I could have imagined.    After winning a brown bear hunt with you in 2013, I told you that I wanted to go on a moose hunt.  Four years later, all my dreams became a reality.  After four days of passing legal bulls every day, I finally filled my lifelong dream of killing an Alaskan moose.  Two days later we stalked and killed a nice black bear.
          For the past 18 years I have been a guide in New Mexico and currently run an outfitting business in Kansas.  I have never been on a hunt that has exceeded what I have experienced with you.  You and the guides do an exceptional job!  The travel, camps, and hunt itself is well organized and ran very professionally.  Your attention to detail makes it truly a hunt of a lifetime!! I hope to see you again soon!
Scott Hoard
Courtland, KS
785-374-3011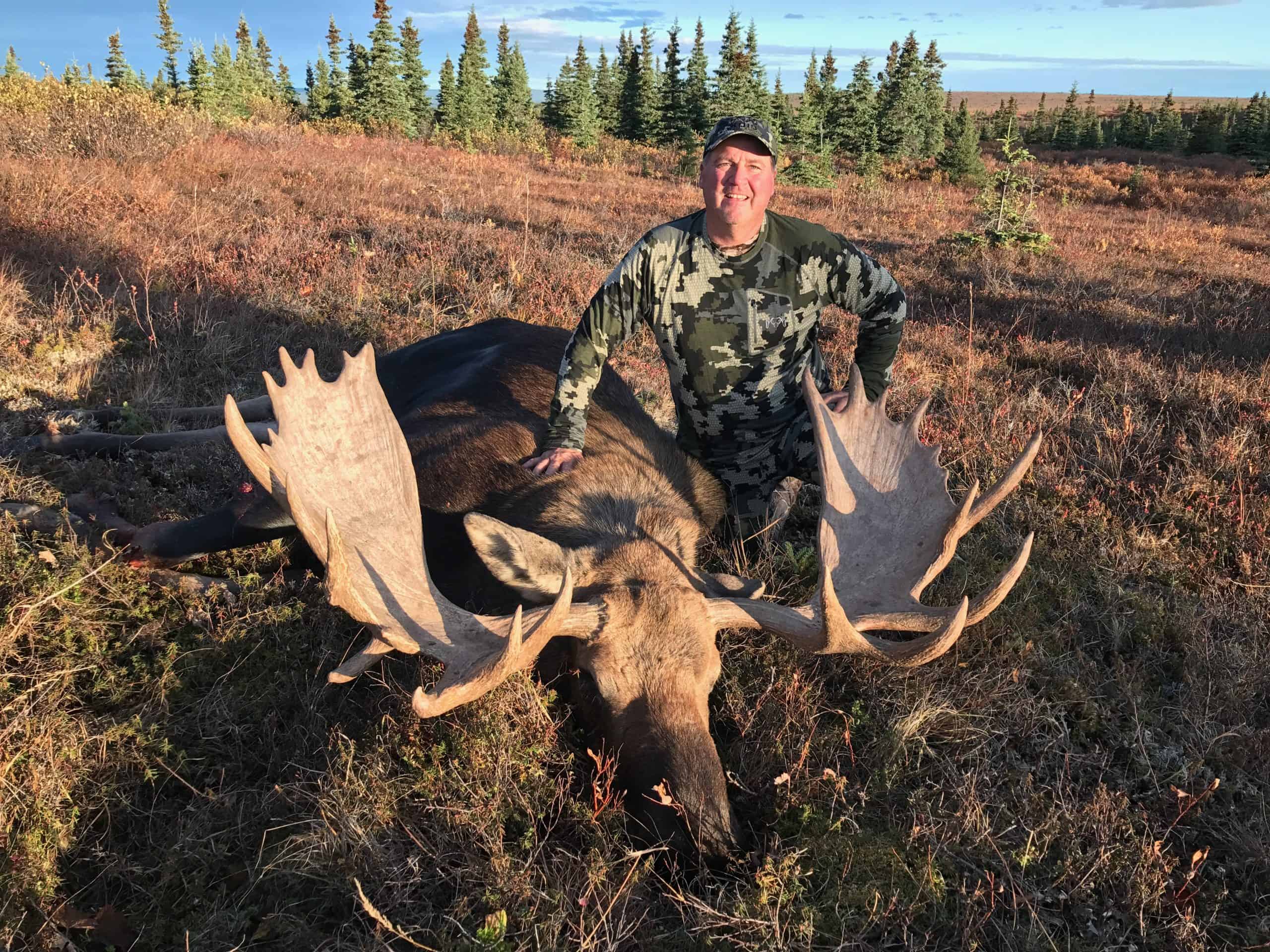 Words cannot describe the professionalism and knowledge of Litzen Guide Service.  In March 2017, I was the lucky winner of a Litzen Dall Sheep Hunt at the Montana Wild Sheep Foundation's annual banquet.  After my initial disbelief and excitement subsided, the nerves and worry of the unknown set in.  I had never hunted in Alaska; I had never been on a guided hunt and knew nothing about the outfitter. Thankfully, my fears and anxiety were completely unwarranted.
Mike heads up an amazing guide outfit.  Mike's attention to detail, meticulous airplanes, combined with his hunting knowledge, super cub piloting skills and overall planning logistics made my hunt an amazing experience, from start to finish. And a bonus, Mike and his team shared my extreme passion for the outdoors and enthusiasm for the mountain experience.
My hunt started with a super cub flight with Mike to spike camp.  Guide Tony M. and packer Brock were waiting at camp and welcomed me to the mountain. It was Tony's first year guiding sheep hunters, but you would never know it. Tony's years of experience hunting sheep for himself and with friends, combined with his patience for all my questions regarding the Alaska backcountry made him a great fit for me. It didn't hurt that he was a fellow "sheep nut".  Brock never backed down from a challenge, kept us going with his positive attitude and was an all-round great guy from my home state of Idaho.  By the time the hunting began, the three of us were just buddies going hunting. 
From the start of the hunt, we were glassing sheep until I found the one. I was fortunate to harvest a mature heavy double broomed ram with lots of character…my dream come true! None of this would have been possible without the Litzen Guide Service.  The entire team earned my respect and admiration.  If and when my next Alaska adventure comes, Mike Litzen will be at the top of my list.  Even though I won the hunt, I could not have hand-picked a better guide team.  Thanks Mike, Tony, Brock and the rest of the crew. 
Matt Martin
Great Falls, MT
(406) 788-0762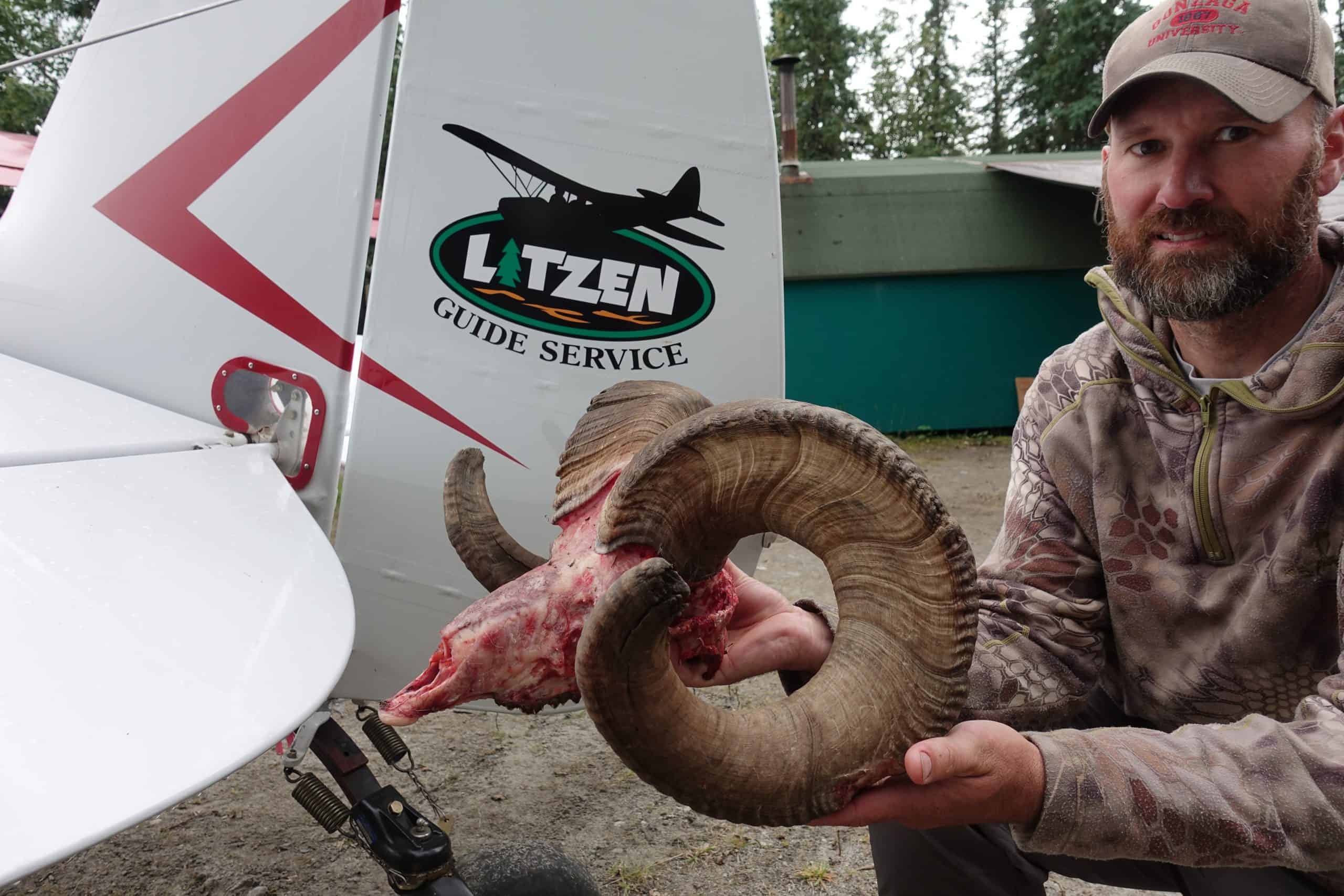 This was my first trip with Litzen Guide Service as a hunter. In 2015 I went along as a non-hunter on my Dad's brown bear hunt. The original plan for this trip had my Dad and I in different camps a few miles from each other but since my Dad was successful on his first day Mike decided to put me into the same camp and bring my guide over there. The camp was comfortable and located in a beautiful area with abundant wildlife. I was lucky enough to get my first grizzly bear on the 4th morning and my first moose on the 8th afternoon. It was an experience that I will always treasure and I can't wait to go back.
I want to thank Mike running such a great operation and my guide Shay for all the hard work making this an experience of a lifetime. I also want to thank Cole for the help packing meat. Lastly I want to thank MSG for the help around camp and the great conversation and many laughs.
I would highly recommend the Lizten Guide service to anyone considering a hunting trip to Alaska.
Max Leidenfrost – Idaho
505-803-0596